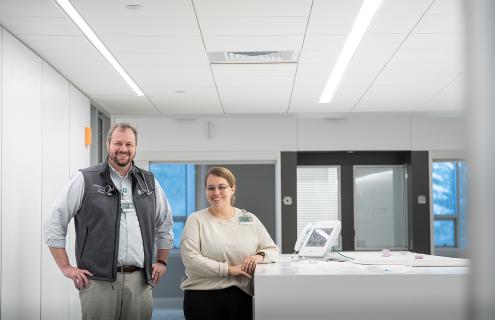 When Dartmouth Health's new Patient Pavilion in Dartmouth Hitchcock Medical Center (DHMC) opens in May 2023, it will add an entirely new—and much-needed—department: the Medical Specialty Care Unit (MSCU). Level 3, Wing A, will feature 16 beds for patients who need a level of care in between floor-level and critical care. "In the MSCU, the nurse-to-patient ratio will be smaller, and the monitoring more intense and frequent," explains Michelle Graham, RN, nurse manager for Medical Specialties Units, who, along with hospitalist Rich Saunders, MD, is leading planning for the MSCU. "Patients will get more individualized attention because they will be sicker than our regular patient population."
These intermediate beds, also called stepdown beds, "are an in-demand resource in our system and in many health systems," according to Saunders. "More stepdown beds will improve our ability to care for medically complex patients who need a higher level of care than we can provide on the floor, and free up our ability to care for the sickest patients in the region who need to be in our critical care units."
Planning and training
Dartmouth Health is dedicated to professional development and career growth, and the new department in the Pavilion is providing an excellent opportunity for both. "We're figuring out how to launch an entirely new department and ensure we have staff trained to meet the needs of this patient population 24/7," says Graham. On the nursing side, "we've worked with our Department of Nursing Education to develop cross-training opportunities. We have a lot of current nurses that are very interested in working in the new space, so we're offering skills verification time, didactive learning, and time in our simulation lab. This will provide nurses with a unique opportunity that takes into account the significant amount of experience they already have."
On the provider side—physicians, nurse practitioners and PAs "have, for better or worse, gotten a dry run with increased patient volumes after dealing with COVID the last two winters: We've had to flex up our capacity a fair bit," Saunders says. "Clinical leadership is now working to understand what the patient population is going to look like in the MSCU and how we can best serve them. We're also thinking about how this expanded stepdown capacity might impact care in other parts of the hospital."
Expanding and strengthening
Graham and Saunders are enthusiastic about the stunning new space in the Pavilion and the possibilities it will bring. "A lot of care was taken to create space for a state-of-the-art, interdisciplinary approach to patient care," says Graham. "It will be full of new technology—like integrated Patient Dashboards and MyChart Bedside, which allows patients to interact with their provider teams right at their fingertips. It's also incredibly family centered. Each room is private and designed to allow for a visitor to easily stay in the room with the patient. From both a staff and patient perspective, we will be leading the way in providing world-class care."
According to Saunders, the MSCU will also offer DHMC great flexibility, with the majority of beds being what's known as "acuity adaptable." "The idea is that we will be able to provide both stepdown and general medical care within one space," he says. "That means we won't have to move patients quite as often, which will clearly improve the patient experience."
"The space in the new Pavilion will allow us to flex up our capacity to provide the care we know is needed in the region, which will mean we can be there for our neighbors when they need us," Saunders concludes. "The goal here is to do more of what we already do really well, which is to work within teams to provide the best care possible to patients and their families. The MSCU will expand and strengthen our ability to do that."