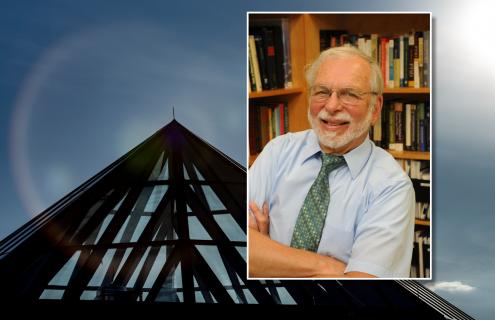 This study is a game-changer, and I am excited to see what more can be learned about PTSD as a result.
Matthew J. Friedman, MD, PhD
A recently-published study of brain tissue from patients afflicted with post-traumatic stress disorder (PTSD) has uncovered previously unknown information about the disorder, and is poised to change how PTSD is understood and guide future treatment development. Matthew J. Friedman, MD, PhD, a psychiatrist at Dartmouth-Hitchcock Medical Center (DHMC), Professor of Psychiatry at the Geisel School of Medicine at Dartmouth, and Director of the U.S. Department of Veterans Affairs National Center for PTSD Brain Bank, played a critical role in the multi-year research that fueled the study. The article, "Transcriptomic organization of the human brain in post-traumatic stress disorder," is published in the December 2020 issue of the medical journal Nature Neuroscience.
In their research, Friedman and his colleagues studied post-mortem brain tissue from PTSD patients, focusing on genetic expression patterns in four regions of the prefrontal cortex, which are responsible for higher cognitive function and executive control. Their research found that the brains of people with PTSD had "extensive remodeling" of the normal operations by which genetic information is coded, impacting everything from neural transmission to metabolism to inflammation.
"This study is the first of many to come that are going to change the field of PTSD research," Friedman said of the groundbreaking study. "Unfortunately, our emerging understanding of the psychobiology of PTSD has not led to the development of effective medications for the disorder. We haven't even seen a new drug developed for the treatment of PTSD in 20 years. Our team's findings offer new clues about the causes of PTSD, the possibility of improved treatment, and most importantly, hope for people who live with this terrible disorder."
Friedman and his team found in the study altered gene expression that particularly affected two cell types in PTSD patients — interneurons, which inhibit neural activity, and microglia, immune system cells in the central nervous system.
PTSD can develop after a person is exposed to a traumatic event, such as sexual assault, interpersonal violence, warfare, car accidents, child abuse or other threats on a person's life. Symptoms can include mental and physical distress in response to traumatic reminders, avoiding situations related to the trauma, negative thoughts and worsening of mood, and an increase in arousal and reactivity.
The study was conducted by a seven-part nationwide consortium of PTSD researchers, headquartered at Geisel and affiliated with the National Center for PTSD, a program of the VA, for which Friedman served as founding executive director  from 1989 to 2013. In 2014, as senior advisor to the Center, Friedman established and assumed the directorship of the VA National PTSD Brain Bank, which was instrumental in the study.
"We couldn't have done it without the brain bank," Friedman. "This study is a game-changer, and I am excited to see what more can be learned about PTSD as a result."
About Dartmouth-Hitchcock Health
Dartmouth-Hitchcock Health (D-HH), New Hampshire's only academic health system and the state's largest private employer, serves a population of 1.9 million across northern New England. D-HH provides access to more than 2,000 providers in almost every area of medicine, delivering care at its flagship hospital, Dartmouth-Hitchcock Medical Center (DHMC) in Lebanon, NH. DHMC was named again in 2020 as the #1 hospital in New Hampshire by U.S. News & World Report, and recognized for high performance in 9 clinical specialties and procedures. Dartmouth-Hitchcock Health includes the Norris Cotton Cancer Center, one of only 51 NCI-designated Comprehensive Cancer Centers in the nation Children's Hospital at Dartmouth-Hitchcock, the state's only children's hospital; member hospitals in Lebanon, Keene, and New London, NH, and Windsor, VT, and Visiting Nurse and Hospice for Vermont and New Hampshire; and 24 Dartmouth-Hitchcock clinics that provide ambulatory services across New Hampshire and Vermont. The D-HH system trains nearly 400 residents and fellows annually, and performs world-class research, in partnership with the Geisel School of Medicine at Dartmouth and the White River Junction VA Medical Center in White River Junction, VT.