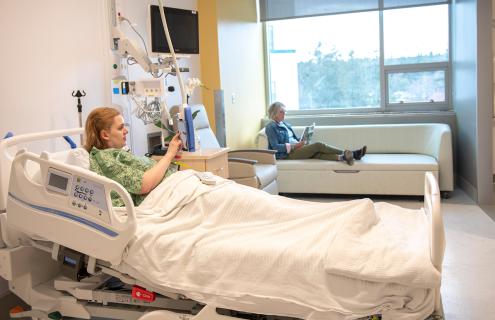 Dartmouth Health is well known for its commitment to patient- and family-centered care—care that addresses the preferences and needs of patients and their loved ones. The new Patient Pavilion in Dartmouth Hitchcock Medical Center (DHMC) elevates, extends and enhances that commitment.
"The Pavilion is an example of how Dartmouth Health wants to move into the future," says Brant Oliver, Dartmouth Health system vice president for care experience and an associate professor at the Geisel School of Medicine. "There are a number of structural elements built in that are advancements compared to what we've been able to offer in the past. These will contribute to a better care experience for our patients and families and also for our health care professionals."
Those advancements start from the outside in, with 100 additional parking spaces for visitors and an information desk just inside the doors. The first floor also features a new Interfaith Chapel, designed to be a place for rest, reflection and restoration. Its wall of windows looks out into the natural beauty surrounding DHMC; visitors may also use the door to access the garden just outside. "Our goal was to create a hospitable place where people of all spiritual practices, life philosophies, individual and cultural values feel welcome," notes Frank Macht, director of spiritual health for DHMC.
Levels 3 and 4 in the Pavilion are home to 64 state-of-the-art patient rooms. The spacious, private rooms offer the latest in technology, like patient care dashboards and MyChart Bedside, which will help create a shared understanding of the care plan between patients, loved ones and the care team. In addition, each room has remote video capability that can enable a virtual consult with a specialist or a meeting with the patient, the care team and out-of-town family.
Loved ones will find it easy to stay overnight right in their patients' rooms, thanks to pull-out couches. Private showers and changing areas on the first floor will give loved ones space to attend to their personal needs—a vital resource in an area like the Upper Valley where patients often travel two or more hours to seek care. Each inpatient floor also features a large, light-filled lounge with couches and desks. It's a place where families can gather, and loved ones can recharge or catch up on some work while visiting. These amenities are made possible by a $5.25 million gift commitment by former Dartmouth-Hitchcock Health Trustee Bill Conaty and his wife, Sue, which they made in honor of DHMC's hardworking staff.
"All of these resources help DHMC do what we do best: provide world-class care to our neighbors and friends," says Oliver. "Patients have many choices for care. What the Pavilion does is position Dartmouth Health to be competitive for an optimal care experience and also a patient-centered experience. I think it's also going to help draw people to consider working at DHMC as well as to support our health care professionals. While the Pavilion is impressive for its structural capabilities, I think its greatest strength will be what it will do to empower and support our people. And our people remain our greatest asset."