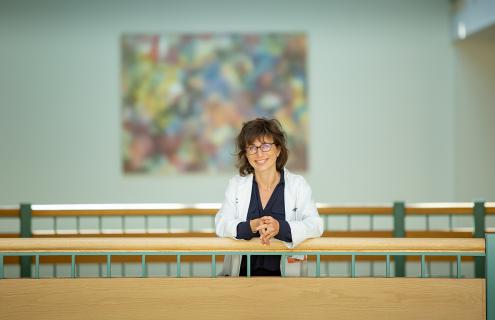 Dr. Deiner's work on cognitive and functional recovery in geriatric surgical patients has improved outcomes from surgery for older adults. We are fortunate to have her at D-H as we continue to strive for improved patient experience through research
Simon C. Hillier, MD, Chair of the Department of Anesthesiology
Dartmouth-Hitchcock (D-H) has named Stacie Deiner, MD, as the Vice Chair for Research for the Department of Anesthesiology. Deiner was also recently named the William LeRoy Garth Professor in Medical Science at the Geisel School of Medicine at Dartmouth. The Garth endowment has played an important role in stimulating research in anesthesiology at D-H and Geisel.
As Vice Chair, Deiner, who currently serves as a director of the American Board of Anesthesiology and will be the chair of the ABA Research Committee, will focus on improving the D-H Department of Anesthesiology research infrastructure. The long-term goal is to increase the academic profile of the department by making significant and impactful contributions to scientific knowledge.
"Dr. Deiner's leadership is an invaluable asset as we continue to expand our research capabilities in the Department of Anesthesiology," said D-H Department Chair Simon C. Hillier, MD. "Dr. Deiner's work on cognitive and functional recovery in geriatric surgical patients has improved outcomes from surgery for older adults. We are fortunate to have her at D-H as we continue to strive for improved patient experience through research."
Deiner joins D-H from the Icahn School of Medicine at Mount Sinai in New York, where she served as Vice Chair for Research and Professor of Anesthesiology, Neurosurgery, Geriatrics and Palliative Care. Her research expertise focuses on cognitive recovery in older surgical patients. In her clinical practice, she is a neuroanesthesiologist and had previously led Mount Sinai's Division of Neuroanesthesia.
 "My specialty is studying cognitive recovery in older surgical patients and I'm excited to work with my colleagues to enhance surgical care for our aging population, said Deiner. "I enjoy collaborating with geriatricians, surgeons, patients and community health partners to identify, treat and support this high-risk group of patients."  
Deiner is originally from Brooklyn, New York. She is a graduate of the State University of New York at Stony Brook School of Medicine, and has a master's degree in patient-oriented research at The Mailman School of Public Health at Columbia University.  She serves on the executive team for the ASA Brain Health Ad-Hoc Committee, and chaired the ASA Geriatric Abstracts Committee. She has contributed to the American Geriatrics Society Delirium Guidelines and the American College of Surgeons Geriatric Verification Standards and serves on the ACS GSV Committee. She has served as an Associate Editor for the Geriatrics section of Anesthesia and Analgesia, and the British Journal of Anaesthesiology.
About Dartmouth-Hitchcock Health
Dartmouth-Hitchcock Health (D-HH), New Hampshire's only academic health system and the state's largest private employer, serves a population of 1.9 million across northern New England. D-HH provides access to more than 2,000 providers in almost every area of medicine, delivering care at its flagship hospital, Dartmouth-Hitchcock Medical Center (DHMC) in Lebanon, NH. DHMC was named again in 2020 as the #1 hospital in New Hampshire by U.S. News & World Report, and recognized for high performance in 9 clinical specialties and procedures. Dartmouth-Hitchcock Health includes the Norris Cotton Cancer Center, one of only 51 NCI-designated Comprehensive Cancer Centers in the nation Children's Hospital at Dartmouth-Hitchcock, the state's only children's hospital; member hospitals in Lebanon, Keene, and New London, NH, and Windsor, VT, and Visiting Nurse and Hospice for Vermont and New Hampshire; and 24 Dartmouth-Hitchcock clinics that provide ambulatory services across New Hampshire and Vermont. The D-HH system trains nearly 400 residents and fellows annually, and performs world-class research, in partnership with the Geisel School of Medicine at Dartmouth and the White River Junction VA Medical Center in White River Junction, VT.