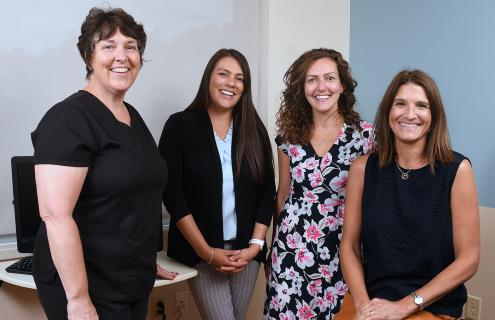 Obesity is a disease associated with more than 200 medical conditions, including heart disease, diabetes, fatty liver disease, cancer and depression. Dartmouth Health is committed to helping patients with obesity improve their metabolic health (blood pressure, blood sugar and cholesterol) and quality of life. Weight and Wellness Centers in Lebanon and Bedford, New Hampshire, provide patients with personal care plans to improve their metabolic health by losing weight. The model is so successful—and in demand—that Dartmouth Hitchcock Clinics Nashua now has its own Weight and Wellness Center.
With a long wait list at the centers in Manchester, it was time to provide access to this healthcare in Nashua.
"There has been a huge demand for this care," explains Elliot D. Seagle, BSN, RN, Surgical Services, Dartmouth Hitchcock Clinics Nashua, who oversees staff training and hiring, along with patient service, for the new location. "About 40% of those waiting for appointments are from Nashua, and many of the current Manchester patients have been traveling from the Nashua area."
A complete approach to health
Make your meals healthier
These easy food swaps will help! Substitute:

•    Olive oil for butter.
•    Seafood for red meat.
•    Whole grains for refined grains or starchy vegetables.
•    Red wine for sugary cocktails.
•    Fresh fruit for sweetened desserts.
Another healthy tip is to share meals with others, instead of eating alone or while distracted.
Find more healthy meal ideas in our Cooking Up Health section. 
The Weight and Wellness Center in Nashua is a multidisciplinary team led by Director Sarah H. Finn, MD, ABOM, and Tonya Binder, MSN, APRN, with support from a registered dietitian, medical assistant and clinical secretary. Resources in Bedford, including a nurse exercise specialist and program psychologist, also assist the team.
The Weight and Wellness Center provides care based on research to patients, including medical weight loss with anti-obesity medications and/or bariatric surgery. The program offers individual or group counseling to improve nutrition, movement, sleep and stress. If a patient's treatment decision includes surgery, the Nashua team works with the Bariatric Surgery Program at Dartmouth Hitchcock Clinics Manchester.
"The Weight and Wellness Center uses evidence-based treatments and shared decision-making with our patients," Finn says. "Patients with obesity are likely to have experienced weight stigma. We like to teach patients that obesity is a disease. Less than 1% of patients nationally who have obesity are given the right treatment with anti-obesity medications and/or bariatric surgery. We try to empower our patients to try effective treatment and encourage anyone interested to learn more about our process."
Patients first meet with their provider, then have separate visits with a dietitian and exercise specialist. Between visits, patients can use their myDH account to connect with their team. They can also participate in free virtual weekly and monthly group classes that discuss behavior change, movement and nutrition. Monthly classes feature the team's providers cooking in their own kitchens to show patients how to cook meals. One of those classes is "The Mediterranean Plate: It's about food, movement and an entire lifestyle" (see sidebar for related food preparation tips).
Treatment with dignity
The Weight and Wellness Center space was built for patient comfort—exam tables, scales, wheelchairs and doorways—to support positive treatment outcomes.
"Patient dignity is important, and we kept that in mind throughout the planning process for this space and program," explains Anu C. Patel, director, Divisional Operations, Dartmouth Hitchcock Clinics Nashua. "We're thrilled to provide patients quality care in their home community."
Call the Nashua Weight and Wellness Center at 603-695-2870 for more information, or visit the Weight and Wellness Center website.
To create a myDH account, visit the myDH website.