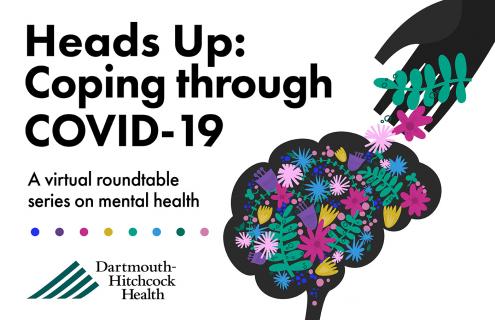 Dartmouth-Hitchcock Health premiered its latest 'Heads Up: Coping through COVID-19' virtual roundtable series, "Overcoming Challenges of Changing Learning Environments: Part One," on Wednesday April 7, 2021.
This latest segment focuses on helping children and teenagers cope with changes to their day-to-day routines associated with fluctuations in virtual, hybrid and in-person learning, how to navigate feelings of anxiety, depression, social isolation and more. This segment also reminds viewers to look for the silver linings and hopeful moments amid the pandemic.
Panelists featured in this segment include:
Frank Edelblut, Commissioner, New Hampshire Department of Education
John Broderick, Senior Director of External Affairs, Dartmouth-Hitchcock Health
Julie Balaban, MD, Child and Adolescent Psychiatrist, Children's Hospital at Dartmouth-Hitchcock
Broderick is no stranger to conversations on mental health. Before the COVID-19 pandemic brought in-person gatherings to a halt, he visited schools throughout New England as part of the R.E.A.C.T. mental health awareness campaign. Broderick, former Chief Justice of the New Hampshire Supreme Court, has spoken with more than 100,000 students, educators and parents about his family's personal experience in an effort to change the conversation on mental health and to help reduce stigma around mental illness.
Julie Balaban, MD has been working on the frontlines of the COVID-19 pandemic. As a child and adolescent psychiatrist, she sees and hears first-hand the mental health struggles youth are dealing with due to the virus, including isolation, altered routines and other challenges.
Before the pandemic struck in March 2020, Commissioner Edelblut often joined Broderick for the R.E.A.C.T. mental health awareness presentations at high schools across the state. Edelblut and the New Hampshire Department of Education have provided resources to families and educators to help students succeed with hybrid and remote learning. This summer, he and the Department are encouraging kids to get outside, play, explore and just be kids.
For more information about the "Heads Up: Coping through COVID-19" virtual roundtable series, please visit https://go.d-h.org/headsup.
About Dartmouth-Hitchcock Health
Dartmouth-Hitchcock Health (D-HH), New Hampshire's only academic health system and the state's largest private employer, serves a population of 1.9 million across northern New England. D-HH provides access to more than 2,000 providers in almost every area of medicine, delivering care at its flagship hospital, Dartmouth-Hitchcock Medical Center (DHMC) in Lebanon, NH. DHMC was named again in 2020 as the #1 hospital in New Hampshire by U.S. News & World Report, and recognized for high performance in 9 clinical specialties and procedures. Dartmouth-Hitchcock Health includes the Norris Cotton Cancer Center, one of only 51 NCI-designated Comprehensive Cancer Centers in the nation; Children's Hospital at Dartmouth-Hitchcock, the state's only children's hospital; member hospitals in Lebanon, Keene, and New London, NH, and Windsor, VT, and Visiting Nurse and Hospice for Vermont and New Hampshire; and 24 Dartmouth-Hitchcock clinics that provide ambulatory services across New Hampshire and Vermont. The D-HH system trains nearly 400 residents and fellows annually, and performs world-class research, in partnership with the Geisel School of Medicine at Dartmouth and the White River Junction VA Medical Center in White River Junction, VT.