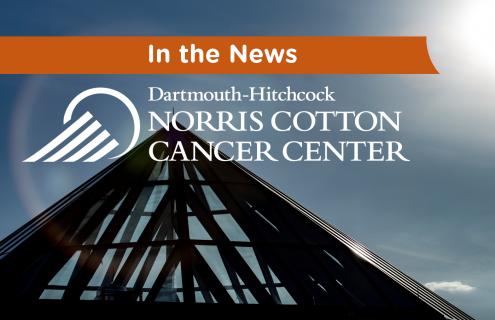 When cancer patients choose to seek care locally at an accredited cancer center, they are gaining access to comprehensive, state-of-the-art cancer care close to home.
NCCC Director Steven D. Leach, MD
The Commission on Cancer, a quality program of the American College of Surgeons, has granted a three-year accreditation to Dartmouth's and Dartmouth-Hitchcock's Norris Cotton Cancer Center (NCCC). To become a Commission on Cancer facility, a cancer program must meet 34 quality care standards, be evaluated every three years through a survey process, and maintain levels of excellence in the delivery of comprehensive patient-centered care.
This accreditation program provides NCCC the framework to improve its quality of patient care through initiatives that focus on the full spectrum of cancer care, including prevention, early diagnosis, cancer staging, optimal treatment, rehabilitation, life-long follow-up for recurrent disease and end-of-life care. Patients will also have access to clinical trials and new treatments, genetic counseling and patient-centered services, including psycho-social support, a patient navigation process and a survivorship care plan that documents the care each patient receives and seeks to improve their quality of life.
"Commission on Cancer Accreditation is a benchmark standard for the quality of care and services we provide our patients, their families and caregivers and our community at large. When cancer patients choose to seek care locally at an accredited cancer center, they are gaining access to comprehensive, state-of-the-art cancer care close to home," says NCCC Director Steven D. Leach, MD. "While we continue to uphold our designation as northern New England's only National Cancer Institute-designated Comprehensive Cancer Center, additional Commission on Cancer accreditation gives us the opportunity for continuous quality improvement to raise the level of care we provide, as well as access to the valuable National Cancer Database for use in our world-class cancer research."
As a Commission on Cancer-accredited cancer center, NCCC takes a multidisciplinary approach to treating cancer as a complex group of diseases that requires consultation among surgeons, medical and radiation oncologists, diagnostic radiologists, pathologists and other cancer specialists. There are currently more than 1,500 Commission on Cancer-accredited cancer programs in the U.S. and Puerto Rico.
Like all Commission on Cancer-accredited facilities, NCCC maintains a cancer registry and contributes data to the National Cancer Database, a joint program of the Commission on Cancer and American Cancer Society. This nationwide oncology outcomes database is the largest clinical disease registry in the world. Data on all types of cancers are tracked, analyzed and used to explore trends in cancer care. Accredited cancer centers, in turn, have access to information from this type of data analysis, which is used to create national, regional and state benchmark reports.
The American Cancer Society estimates that 1.9 million cases of cancer will be diagnosed in 2021 in the United States. Commission on Cancer-accredited facilities diagnose and/or treat more than 70 percent of these patients. Through the Commission on Cancer Hospital Locator, patients can find information on the resources, services, and cancer treatment experience for each Commission on Cancer-accredited program.
For more information, visit: www.facs.org/cancer.
About Dartmouth-Hitchcock Health
Dartmouth-Hitchcock Health (D-HH), New Hampshire's only academic health system and the state's largest private employer, serves a population of 1.9 million across northern New England. D-HH provides access to more than 2,000 providers in almost every area of medicine, delivering care at its flagship hospital, Dartmouth-Hitchcock Medical Center (DHMC) in Lebanon, NH. DHMC was named again in 2020 as the #1 hospital in New Hampshire by U.S. News & World Report, and recognized for high performance in 9 clinical specialties and procedures. Dartmouth-Hitchcock Health includes the Norris Cotton Cancer Center, one of only 51 NCI-designated Comprehensive Cancer Centers in the nation Children's Hospital at Dartmouth-Hitchcock, the state's only children's hospital; member hospitals in Lebanon, Keene, and New London, NH, and Windsor, VT, and Visiting Nurse and Hospice for Vermont and New Hampshire; and 24 Dartmouth-Hitchcock clinics that provide ambulatory services across New Hampshire and Vermont. The D-HH system trains nearly 400 residents and fellows annually, and performs world-class research, in partnership with the Geisel School of Medicine at Dartmouth and the White River Junction VA Medical Center in White River Junction, VT.
About Norris Cotton Cancer Center
Norris Cotton Cancer Center, located on the campus of Dartmouth-Hitchcock Medical Center (DHMC) in Lebanon, NH, combines advanced cancer research at Dartmouth College's Geisel School of Medicine in Hanover, NH with the highest level of high-quality, innovative, personalized, and compassionate patient-centered cancer care at DHMC, as well as at regional, multi-disciplinary locations and partner hospitals throughout NH and VT. NCCC is one of only 51 centers nationwide to earn the National Cancer Institute's prestigious "Comprehensive Cancer Center" designation, the result of an outstanding collaboration between DHMC, New Hampshire's only academic medical center, and Dartmouth College. Now entering its fifth decade, NCCC remains committed to excellence, outreach and education, and strives to prevent and cure cancer, enhance survivorship and to promote cancer health equity through its pioneering interdisciplinary research. Each year the NCCC schedules 61,000 appointments seeing nearly 4,000 newly diagnosed patients, and currently offers its patients more than 100 active clinical trials.