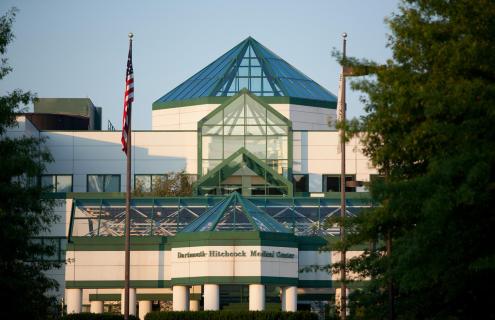 What's evident is that this syndrome is NOT going away as the number of severe COVID-19 cases declines. The problem of long haul COVID is not getting better—it's getting worse.
Jeffrey Parsonnet, MD
Dartmouth Health's Dartmouth Hitchcock Medical Center (DHMC) has marked one year since opening the regions first Post-Acute COVID Syndrome (PACS) Clinic. To date, the clinic has received 760 patient referrals, with approximately 400 seen or currently scheduled to be seen.  While other PACS (also known as "long haul COVID") clinics in the United States have extensive waitlists, the clinic at DHMC, which was the first in northern New England and is the only clinic of its kind in the region and sees patients from New Hampshire and Vermont, has been able to see patients within a few weeks of being referred.
Supported by test results and assessments made by primary care providers (PCP), clinic leader Jeffrey Parsonnet, MD, a member of the Infectious Diseases Section, and Christina F. Martin, MSN, APRN, Infectious Disease and International Health, assess patients in-person and using telehealth. Most patients that are now being referred had a relatively mild case of COVID-19 that didn't require hospitalization and were vaccinated. Three-quarters of all patients are women, as has been seen at other PACS clinics around the country.
"Patients with long COVID-19 often have normal labs, scans of various kinds, and echocardiograms (tests using ultrasound to monitor heart function)—but they feel horrible, and this can be especially challenging. It's similar to chronic fatigue syndrome in that it causes a lot of emotional stress, along with physical symptoms," Parsonnet explains. "Much of what the PACS Clinic provides is affirmation and validation of patients' symptoms, letting them know it's not just in their heads."
The purpose of the clinic is primarily to help patients but also to conduct research into this syndrome. The team received a grant from the Susan & Richard Levy Health Care Delivery Incubator to assist in designing a care delivery model and do research on PACS.
The most common symptoms are fatigue and brain fog. Brain fog can be severe enough to cause people to get lost driving in their own town; multitasking becomes difficult, word-finding a struggle, and short-term memory is impaired. Symptoms are often severe enough to cause significant disability, including inability to work.   
Patients must be referred by their PCP, be 18 years of age or older, and be experiencing symptoms for at least three months after initial COVID-19 infection. The PACS Clinic also connects patients with referrals to specialists as needed, including Neurology, Pulmonology, Cardiology, Psychiatry and Rehabilitation Medicine (which includes occupational therapy for cognitive rehabilitation and physical therapy for fatigue management).
"What's evident is that this syndrome is NOT going away as the number of severe COVID-19 cases declines," Parsonnet reports. "The problem of long haul COVID is not getting better—it's getting worse."
For more information, visit Post-Acute COVID Syndrome Clinic or call 603-650-9484.
About Dartmouth Health
Dartmouth Health, New Hampshire's only academic health system and the state's largest private employer, serves patients across northern New England. Dartmouth Health provides access to more than 2,000 providers in almost every area of medicine, delivering care at its flagship hospital, Dartmouth Hitchcock Medical Center (DHMC) in Lebanon, NH, as well as across its wide network of hospitals, clinics and care facilities. DHMC is consistently named the #1 hospital in New Hampshire by U.S. News & World Report, and recognized for high performance in numerous clinical specialties and procedures. Dartmouth Health includes its Dartmouth Cancer Center, one of only 51 National Cancer Institute-designated Comprehensive Cancer Centers in the nation, and the only such center in northern New England; Dartmouth Health Children's, including the Children's Hospital at Dartmouth Hitchcock Medical Center, the state's only children's hospital and clinic locations around the region; member hospitals in Lebanon, Keene and New London, NH, and Windsor, VT, and Visiting Nurse and Hospice for Vermont and New Hampshire; and more than 24 clinics that provide ambulatory services across New Hampshire and Vermont. Through its historical partnership with Dartmouth and the Geisel School of Medicine, Dartmouth Health trains nearly 400 medical residents and fellows annually, and performs cutting-edge research and clinical trials recognized across the globe with Geisel and the White River Junction VA Medical Center in White River Junction, VT. Dartmouth Health and its more than 13,000 employees are deeply committed to serving the healthcare needs of everyone in our communities, and to providing each of our patients with exceptional, personal care.