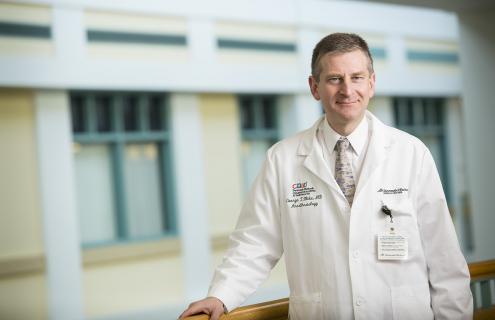 I could donate to someone who needed a kidney today, and then 15-20 years from now, my son will be able to use his voucher to be prioritized when he's in need of another transplant. There are no guarantees, but it was something I was excited to do.
George T. Blike, MD
What would you do if your child needed a kidney transplant? Most parents, without hesitation, would offer up one of their own. But what if your child didn't need the transplant right away? What if they will need a donated kidney years from now when you may be too old to be a donor?
George T. Blike, MD, immediate past chief quality and value officer, Dartmouth-Hitchcock (D-H), found himself in that exact situation. "My son was born with medical conditions that we learned would lead to kidney failure as he grew older," says Blike. "He had his first kidney transplant when he was 17, but we knew it wouldn't last forever. It gets you worried as a parent because there's a shortage of organs. The next time he'll need an organ, may be 15 to 20 years from now, based on my age at that time I would no longer be able to be a candidate to donate him a kidney."
That probable turn of events weighed on Blike until he learned about the National Kidney Registry's Voucher Program during a conference he was attending. Using the voucher program, kidney donors who will age out of eligibility by the time a family member needs a transplant donate now to a person in need. They then receive a voucher for up to five family members who may need a kidney donation in the future.
"I thought it was a just brilliant," says Blike. "I could donate to someone who needed a kidney today, and then 15-20 years from now, my son will be able to use his voucher to be prioritized when he's in need of another transplant. There are no guarantees, but it was something I was excited to do."
And the need for donated kidneys is great explains Michael Daily, MD, MS, FACS, the D-H surgeon who harvested Blike's kidney for donation. "Some very clever people have come-up with novel ways to increase the donor pool. This is one of many such strategies. I am excited to be a part of this growth, and it was rewarding to help Dr. Blike help his son."
Organ donation begins with an extensive screening and testing process designed to ensure that the donor is healthy enough to undergo surgery, will be donating a healthy kidney and will be left with a fully functional kidney. A member of the National Kidney Registry, D-H makes navigating both the donation procedure and participation in the voucher program easy with the screening, testing, surgery, recovery covered by the program.
"Once you contact the transplant team, Cathy Pratt, RN, CCTC, organ transplant coordinator at D-H, walks you through the whole process," says Blike. "I'm exaggerating, but she let me know at least 50 times that I could change my mind all the way up to the morning of surgery. The team is very good at letting you know this process is something you're in control of."
Over the course of six months, Blike was evaluated by a dietician, donor coordinator, pharmacist and social worker. He donated blood for his procedure. He underwent cardiac testing and a CAT scan. And, he met with the surgical team.
"It was all well-coordinated," says Blike. "At every point, they lay out the next steps. They organize things, so you don't miss a lot of work. Sometimes I had six appointments in one day. And there are programs that provide financial support if you do have to lose work time." The National Kidney Registry also provides life insurance, donation disability insurance, wage, travel and lodging reimbursement and financial support in the event of post-surgical complications.
During a pre-op meeting, Blike met with members of the peri-operative team and had an extensive meeting with Daily. Blike's 4.5-hour surgery was scheduled for 5:30 am to allow time for his kidney to travel to Boston, where a recipient was waiting. "Once the organ is removed, it has to get on its way," says Blike. "Everything is on the clock."
Before, during and after surgery, Blike was well-tended to by the surgical team. "They're just amazing people," says Blike. "The morning of surgery, Cathy was right there telling me I could change my mind, and Dr. Kaneko was doing final assessments that it was safe to proceed. After, Dr. Daily and the team were incredibly thorough in monitoring my recovery."
Most patients stay at the hospital for one to three days after surgery, and Blike went home after one overnight. He was meeting all of the criteria to go home, and the team still checked in often to verify that he was doing well.
"There are just so many people in need of organs, and there are too few donors," says Blike. Adds Daily, "Right now, there are almost 100,000 people on the waiting list for a kidney in this country. Last year there were less than 23,000 kidney transplants performed, and just over 5,000 of those were living donors. Dr. Blike, and people like him, are making a real difference in the lives of the people in our community, and I am grateful to be able to participate.
"A kidney may be one of the easier organs to donate," says Blike. "My remaining kidney has compensated, and I feel great. The notion that I, as a donor, could help lessen the enormous stress a family endures while waiting for a kidney to be donated is incredibly gratifying."