Photography by

Mark Washburn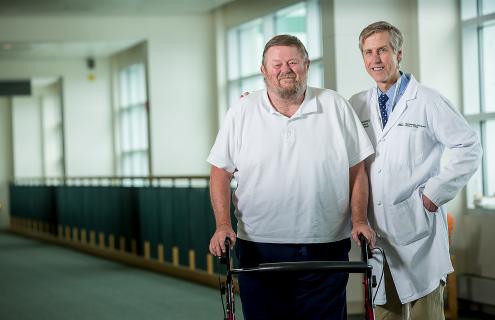 I have nothing but praise for your hospital and its workforce - and that is a sign of leadership which provides a wonderful atmosphere.
John Richards
Back in mid-September 2016, I experienced a serious infection in my left knee replacement. It necessitated treatment at a local hospital and the subsequent decision that the replacement, as well as an internal fixator for a broken left femur, be taken out to treat the infection. Upon consultation with my orthopedic surgeon, we choose Dartmouth-Hitchcock for the procedure and I was transferred to your facility.
From the first moment that I arrived, I experienced a wonderful, caring, truly professional staff. While I was most involved with Infectious Disease and Orthopaedics, what I'm about to say applies to every single person I've seen at your facility. I was totally impressed by the nature of the professionals you employ. I will be 70 years old this winter and, unfortunately, am no stranger to hospitals and surgery. I've had two knee replacements, a hip replacement, treatment for spinal stenosis, peripheral neuropathy, as well as numerous other treatments such as surgery for a severed left thumb flexor tendon. I have had surgery in a range of facilities and with a gamut from unknown surgeons to Dr. JP Warner (noted shoulder surgeon) at Massachusetts General Hospital. My perception of your staff is not without experience.
I found Dr. Michael Sparks to be one of the most qualified, intelligent and knowledgeable doctors I've met with. He has a great sense of humor. I can say that if I ever had to put my life in somebody's hands I'd opt for him right away. He delivered a phenomenal experience.
From day one, I observed a staff who came in at a shift change smiling and patting each other on the back; they are obviously a happy work force, a credit to your leadership. This atmosphere is very conducive to a healing environment. They are incredibly professional and adept at their craft. They are young (for the most part) and energetic beyond description. Their competence is a solid "10." As an aside, my first thought was to say to the naysayers out in society who say we're going downhill as a society, "come to Dartmouth-Hitchcock and watch these young people!" They indeed gave me pause to reflect on what young talent we really do have in America today. I have nothing but praise for your hospital and its workforce - and that is a sign of leadership which provides a wonderful atmosphere. You have set an extremely high bar and your employees are meeting it.
In conclusion, I'll add that very few people look forward to another knee replacement. During my interim treatment with antibiotics and subsequent visits for follow-up appointments, my faith in D-H has been confirmed over and over. I have great faith in a successful finale to this episode and I look forward to your wonderful professionals putting me on the road to walking again. Thank you, so much for your contribution to that.
Regards,
John Richards
Williamstown, MA