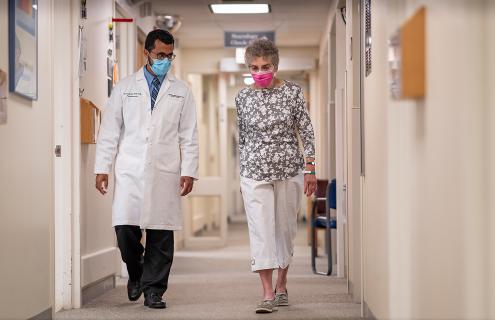 As surgeons, we want to perform surgeries—because it's what we do. But that's not always the right thing. You want to give people the ability to say no. You have to give the time and space for them to choose what they are comfortable with.
Naser Jaleel, MD
Juanita Fugere was an independent 81-year-old grandmother who enjoyed volunteering, attending her grandchildren's athletic events and walking two miles a day—until she began sensing something wasn't quite right. 
It started with feeling dizzy and off-balance, but soon she had numbness and tingling in her legs. Thinking it was a pinched nerve, Fugere was referred to physical therapy and was prescribed medicine to help alleviate the increasingly painful sensations in her legs. But as the months progressed, Fugere's condition only worsened. She went from using a cane to needing a walker and finally a wheelchair. "There were times when I suddenly couldn't move my legs, and I had to call one of my children to come help me. They had to move my feet for me because I couldn't walk," remembers Fugere. When she ultimately lost all feeling in her legs, her son, Tim Fugere, brought her to the Emergency Room (ER) at Dartmouth-Hitchcock Medical Center (DHMC) where he carried her to a wheelchair. 
In the Emergency Room, doctors recommended a magnetic resonance imaging (MRI) of her spine. However, Fugere hesitated because she remembered being told she could never have one due to wiring in her chest. In 1998, Fugere had triple bypass surgery due to coronary artery disease, and later had five stents (wire mesh tubing) placed in her coronary arteries. Cardiologists—including one who was present at her bypass surgery—were consulted. After a review of her history, they confirmed it was safe for her to have the MRI, given the advancements in imaging technology since the time of her surgery. 
Naser Jaleel, MD, a neurosurgeon at Dartmouth-Hitchcock (D-H), was stunned when he saw the MRI image. "It was a large tumor," he explains. "It flattened the spinal cord by completely occupying the spinal canal (area of the spine where the spinal cord passes through) at the upper portion of the thoracic (middle area) of her spine."
It was a "meningioma," a slow-growing, non-cancerous tumor often found in the brain and more rarely in the spine. It was one of the largest Jaleel had ever seen. The only route to recovery was through surgery to remove the tumor. "There was no hope of movement if she didn't have surgery," says Jaleel. But at her age and with her coronary artery condition, it was a risky option.
"I was upfront with the family—and with myself. I wanted to give her the best possible chance of some improvement," Jaleel says. 
Fugere was undecided about whether to go ahead with the surgery. "As a family, we had some deep, difficult conversations and went through quite a few tears," says her son. 
What ultimately changed her mind was the patience and reassurance offered by Jaleel and the rest of the medical team. As Fugere thought over whether to proceed with surgery, her medical team provided answers to her questions and gave her time to process the information and consider her options. She also remembers how her nurses reassured her to take her time, as it was a hard decision.
"They wanted to make sure we understood everything. They were so patient with me, and that's what I really appreciated," adds Fugere. Jaleel eventually put her at ease, and she felt comfortable in her decision to have the surgery. "I thought, what do I have to lose, I'm not happy the way I am," she says.
Not only was the nine-hour surgery a success, but the speed of her recovery was also a surprise to everyone. "Immediately after surgery, there was slow improvement. Then, in rapid fashion, what I would have expected in a couple of weeks, happened in a couple of days," says Jaleel.
"We went to visit her a week later at the rehabilitation center, and because of COVID-19 visitor precautions, we had to see her through a glass window. She was in her wheelchair, and her legs wouldn't stop moving. We soon realized it wasn't any kind of muscle spasm. She was dancing her feet around for us to see," says Tim.
Intense physical and occupational therapy followed, and on December 12, a little over a month after the surgery, Fugere attended her granddaughter's wedding only using a walker. 
While Fugere was eventually able to return to gardening and short walks with her daughter, her ultimate goal was to walk unassisted into her follow-up appointment with Jaleel. In July 2021, eight months after her surgery, she successfully did so.
After reviewing the images of her follow-up MRI, the tumor showed no signs of coming back, and Jaleel told Fugere she didn't have to come in for another year. At the end of the appointment, Jaleel went to shake Fugere's hand, but she asked him if she could hug him instead, and his response was, "Certainly!"
"As surgeons, we want to perform surgeries—because it's what we do. But that's not always the right thing. You want to give people the ability to say 'no'. You have to give the time and space for them to choose what they are comfortable with," says Jaleel. "Juanita's case was remarkable because of the support her family gave her, but ultimately it was her courage and resilience," says Jaleel.
"When I went in for my surgery, I didn't know what was going to happen to me, and I was afraid I wouldn't make it. But in the nine months since the surgery, I have been able to witness two of my grandchildren get married, and I'm going to welcome my first great-grandchild this month and a second in December. Without Dr. Jaleel, the team, my family and the grace of God, I would not have witnessed these moments. I am truly grateful for all they did for me at DHMC, especially Dr. Jaleel," says Fugere.