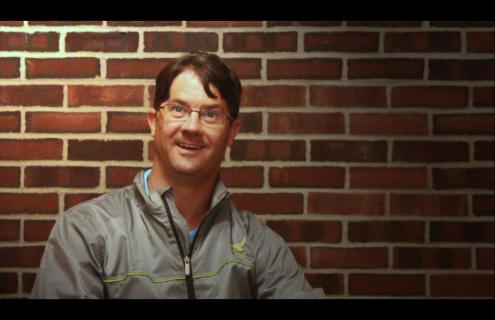 "The first time I met KC Christensen in 2011, I was stunned," says Krzysztof A. Bujarski, MD, director, Epilepsy Center. "I had seen his brain MRI, and it was just awful. He'd had a traumatic brain injury (TBI) which severely damaged the right hemisphere of his brain. I was prepped for a difficult encounter, but KC walked over, smiled and told me he felt great."
Christensen's TBI was the result of a fatal car accident that occurred in 2008, one month after he qualified as a golf professional. "He was with friends, one of whom was killed," says Patti Burlingame, Christensen's mother. "He was flown to Dartmouth Hitchcock Medical Center (DHMC), and we were told he probably wouldn't survive."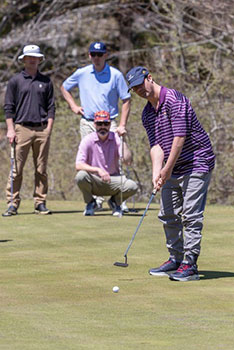 Christensen more than survived. After surgery to remove part of his brain to accommodate for swelling and spending six weeks in a coma, he was moved to a rehabilitation center in southern New Hampshire. In four months of intensive rehabilitation therapy, he relearned how to walk, talk and eat. He returned to driving a car and playing golf. To everyone's astonishment—except maybe Christensen himself—he started working at Owls Nest Golf Club in Thornton, New Hampshire, as a teaching pro and developed an adaptive golf program.
"KC was so positive," says Burlingame. "Things went along really well because of his amazing attitude."
Like most patients with a TBI, Christensen developed epilepsy, which led to his meeting with Bujarski. "KC had begun to have seizures a few years after his accident," says Bujarski. "We controlled them with medication for a long time, but last year, I started to get calls from KC's mother and friends. He was having more seizures, staring episodes and lapses. Patti noticed a cognitive decline."
Despite changes to his medications, his seizures continued, and Bujarski suggested epilepsy surgery at DHMC, New Hampshire's only level 4 epilepsy center. "Epilepsy surgery has a high rate of cure," says Bujarski. "We identify the source of seizures using electrodes and then remove that section of the brain if it will not leave the patient with another deficit."
Joshua P. Aronson, MD, neurosurgeon, performed KC's surgery. "It was a long surgery," says Bujarski. "I observed and couldn't believe how much scar tissue had to be removed. I was really worried about KC. When I visited him the next day, he couldn't remember the surgery but said, 'I feel great!"
But complications followed. A brain infection, clotting problem and issue with his medication pump required an extensive stay in the intensive care unit. Again, his family and care team were worried about his survival.
"For the second time, KC made it," says Bujarski. "He has survived two severe brain injuries, first the car accident and then the TBI-related epilepsy and defied expectations. It's almost like he wills it."
Now living with his mother until he can return to his own home, Christensen has, once again, has gotten back to walking and talking. "Every day he asks, 'What's my challenge?' and then works on making coffee or another task that will help him regain independence," says Burlingame.
"It's hard to pin down how far KC will go," says Bujarski. "Nobody thought he'd achieve what he has. Having gotten to know him, nothing is out of the question. His story isn't over."