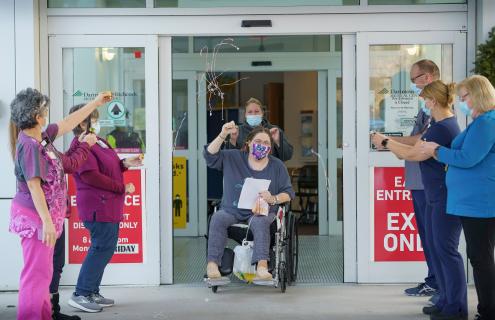 "After I'd gotten to know Liz Towne, I thought, 'This girl deserves a story!" says Heidi Petrin, physical therapy assistant, supervisor, Mobility Technicians, Dartmouth-Hitchcock Medical Center (DHMC). "She's a 30-year-old woman who survived COVID-19, but her life has changed."
Now home in Littleton, New Hampshire, Towne spent 336 days in the hospital recovering from COVID-19 and a spinal cord stroke, a rare side effect of the disease and treatment. Towne contracted COVID-19 in early January 2021. "I wasn't getting any better, and one morning I couldn't walk to the shower without resting on my bed first," says Towne. "My fiancé said, 'Okay, we have to get you to the hospital. When I got to the Emergency Room, my oxygen level was beyond low."
She spent five days at Littleton Regional Healthcare before being airlifted to DHMC by Dartmouth-Hitchcock Advanced Response Team (DHART). She learned about her DHART helicopter ride and intubation (a tube inserted to keep the airways open to get air to the lungs) at DHMC when she woke up more than a month later.
"Waking up in an intensive care unit (ICU) without family or friends present and unable to walk is overwhelming," says Sarah J. Cram, PT, rehabilitation manager, Clinical Rehabilitation Medicine. "Getting Liz out of bed and into the gym and talking more was key to her recovery."
Motivation promotes progress
Therapists Domonique Da Silva, PT, Lacey C. Fenton, OT and Cheryl M. Lundgren, SLP, began working with Towne even before she left the ICU. Occupational Therapy Assistant Kanesha M. Campbell and Physical Therapy Assistant Erica S. Arpin took over Towne's rehabilitation when she transferred to the Neurocritical Care Unit.
"I worked on my sitting and balance and developed my core muscles so I could move from my bed to my wheelchair using a slide board," says Towne. "I had to learn how to get dressed and worked with a speech therapist because my voice was raspy."
"Any activity Liz accomplished was a victory," says Arpin, who now works at Cheshire Medical Center (a Dartmouth-Hitchcock Health member) in Keene, NH. "At first, she was only up to working two or three times a week. We started small. She got up every day. Then we just looked in the gym. We added fun activities like playing board games while sitting unsupported, which helped her strengthen core muscles. She used her voice to build small motor control and worked up to five sessions each week."
As much as the team offered rehabilitation service, they offered motivation. "When a person becomes paralyzed, it's hard to cope with the idea of a new lifestyle," says Arpin. Towne gives Petrin special credit for helping her move through the mental challenge of recovery. "I needed somebody to help me get my head in gear and keep going," says Towne. "Heidi told me that it was okay to have bad days, but I needed to move forward. She gave me a good kick in the butt."
Before she went home, Fenton and Petrin taught Towne's family and friends how to offer assistance and help with continued recovery. Arpin has sent links to videos showing Towne how people with paraplegia can participate in a range of activities. "We want Liz to get back to the things she enjoys," says Arpin. It seems she's doing just that.
"Liz isn't housebound," says Petrin. "She's been going to the store and even went bowling."
Towne developed a deep appreciation for members of her care team and keeps in touch. Still, she's glad to be home. "I feel so much better now that I'm not in the hospital," she says.