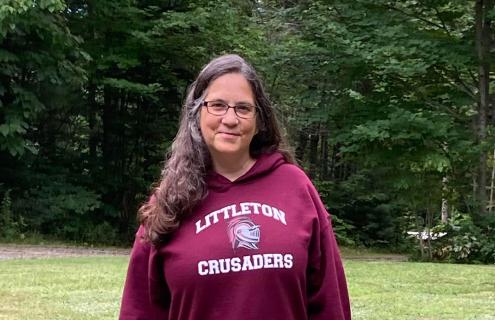 When Lorie Pinette arrived at Dartmouth Hitchcock Medical Center (DHMC) in September 2015, her medical team thought she might need hospice, or end-of-life care, because of the extent of her disease. Pinette had a large mass in her groin area, open sores below her stomach, was tired and experienced nausea when she ate certain foods. She was shocked when a visit to her provider turned into a referral to the Emergency Department at Androscoggin Valley Hospital in Berlin, New Hampshire—followed by a 2-and-a-half-hour ambulance ride to DHMC.
Pinette was soon diagnosed with stage 4 metastatic melanoma, a type of skin cancer that had spread to other areas of her body.
"One of the doctors wasn't sure I would make it out of the hospital," Pinette shares. "I actually didn't feel that bad. I was still able to walk to stretchers for tests, but I got weaker as I stayed in the hospital."
Pinette was at DHMC for about a week while her team, led by Dartmouth Cancer Center's Melanoma Program Director Keisuke Shirai, MD, MSc, conducted testing and started her treatment plan. She was able to go home to Berlin and return every few weeks for treatment.
Immunotherapy proves a game changer
Initially, Pinette took two targeted oral medications that showed a good response. But after several months, she had new skin cancer lesions appear—which meant the treatment wasn't working. Shirai and his team switched her to pembrolizumab (Keytruda), an immune checkpoint inhibitor, which is a type of immunotherapy.
"Lorie was able to benefit from this new immunotherapy that reactivates the body's immune system to fight cancer, and that received a 2018 Nobel Prize—a prize that recognizes advancements that change human history," Shirai explains.
She had a good response at first, but new lesions appeared. The team decided to try a 2-drug combination of infusion immunotherapy. The timing of Pinette's diagnosis couldn't have been better: in 2015, the U.S. Food and Drug Administration (FDA) had approved a combination with 2 immunotherapy drugs.
"Lorie was lucky. If she were here before 2015, we wouldn't have had this combination option, which has a 50 to 55% response rate," Shirai says. 
Pinette received a combination of immunotherapy drugs, ipilimumab and nivolumab. She developed vitiligo (blotchy white spots) in the areas where her cancer appeared, mostly on her left thigh and pelvic region, which researchers see as a positive side effect because it shows that the immune system is attacking pigmented cells. During her nearly 7-year journey, Pinette has had other cancer-fighting treatments, including oncolytic virus (T-VEC) and two rounds of radiation. 
"Lorie was so engaged, and she created trusting relationships with her team. She tried new treatments and was open to our advice," Shirai explains. "She had side effects, and it was a bumpy road with lots of ups and downs. The combination of treatments was successful, and she achieved a long-term response from immunotherapy, even after stopping treatment."
Bright future
Today, Pinette is living with one working kidney—her left kidney was affected by the melanoma shutting down the blood vessels that supplied blood to it. She feels well, and her last three cancer scans have shown no obvious cancer.
"For at least a year, we haven't seen any hint of disease," Shirai shares. He considers her cancer "under control."
"I'm grateful for Dr. Shirai—he's been amazing. The whole team was always there to answer my questions," Pinette says. "It's important to listen to your body. Now I do, and I try to just live and think positively."
Learn more about Dartmouth Cancer Center's Melanoma and Skin Cancer Program