By

Tom Haushalter

Photography by

Mark Washburn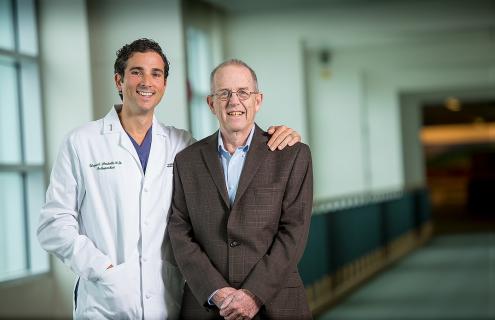 I told Dr. Moschetti, he's the Michelangelo of the OR.
Michael Mahoney
"Fairness and life have nothing to do with each other," says Michael Mahoney, 66, of Greenfield, NH. "You get what you get, you do what you do and you pull yourself up by your bootstraps."
Mahoney, who has undergone more than a dozen medical and surgical procedures over the last 50 years, may have had "some blue days along the way," but with the support of his mother and his sisters, and considering some of the groundbreaking care he has received, he keeps a sensible outlook. "I've had a lot of bad luck but a lot of good outcomes," he says.
Mahoney's journey began in 1970, during his sophomore year at the University of New Hampshire. A diagnosis of renal failure led to fifteen months of kidney dialysis, until in 1972 he received his first kidney transplant at Peter Bent Brigham Hospital (now Brigham and Women's Hospital). The kidney donor was his mother.
During that time, Mahoney developed hyperparathyroidism, which causes high levels of calcium in the blood and urine and, conversely, too little calcium in the bones. Among the symptoms of this condition are arthritis and bone fragility, and made double hip replacement surgery at Brigham and Women's Hospital necessary, in 1973, when he was 22.
In 1982 and 1985, he had revisions of both his hip replacements. "The problem with my hips was bone replacement," Mahoney says. "With each replacement, I lost a little more bone. The socket hole got bigger."
Over the years, Mahoney decided to transition his care to Dartmouth-Hitchcock (D-H) because it is an easier drive to Lebanon than Boston. When his third set of hips were failing him and the pain intensified, there was never a question that he would see an orthopaedic specialist at D-H. That is when he met Wayne Moschetti, MD, MS in Orthopaedics, whom he liked immediately. "Moschetti is a really nice guy," he says, "and you can actually talk to him like a human being."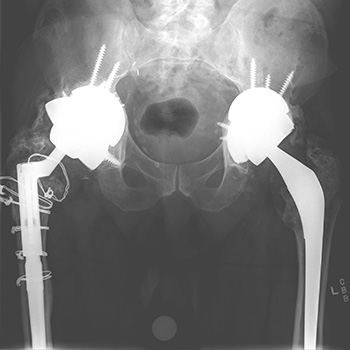 Likewise, Moschetti found Mahoney unusually well-versed and interested in his own complex array of health issues. And when the X-rays of Mahoney's pelvis came back, Moschetti saw what would become one of the most complex hip replacements he'd ever performed. "Mr. Mahoney had enormous pelvic erosion and bone loss," he says. "The ball of his hip was moving around his socket like a pebble in a shoe, and it was wearing down the bone of the socket."
Adds Moschetti, "If he'd had this kind of erosion on only one side, it would have been enormously challenging. But he had it on both sides."
The solution, Moschetti believes, is one of the first of its kind. To make up for the bone loss and to effectively fill the space in order to stabilize each new socket, he says, "We used an extra socket basically as a shim. So we put one socket way up in the hole of his pelvis, then another socket inside that socket and cemented them together."
Calling it "the quadruple cup," Moschetti wagers that Mahoney is "probably the only guy in the world who has four sockets in his pelvis."
Adding to the complexity of each hip replacement (performed a year apart, in 2015 and 2016) was the sensitivity of Mahoney's kidney and related health issues, which could be impacted by the surgery. Moschetti worked closely with Dr. Michael Chobanian, a transplant surgeon at D-H, and other medical personnel to plan the best path forward. Although each hip demanded several hours of surgery and significant blood loss, they were successful.
Images of his reconstructed pelvis still amaze Mahoney. "This is not surgery," he says. "This is artwork. And I told Moschetti—he's the Michelangelo of the OR."
"If I have my highlight reel," Moschetti says, "Mr. Mahoney's definitely on it. Because the fact that this procedure worked—and worked twice— and the fact that he can walk and mow his lawn, is just amazing."
Moschetti is proud, too, of D-H's academic, interdisciplinary approach to care. "This shows that we can take a complex surgical problem for a patient with an even more complex medical history, and figure out how to do it."