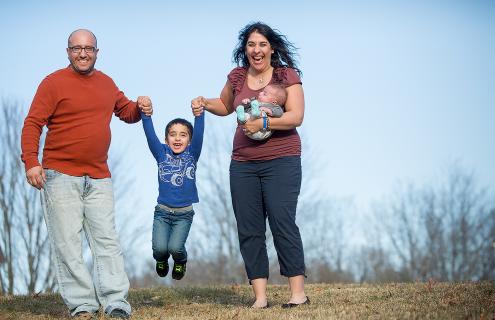 You're not treated as a number, but with dignity. And we always got the answers when we wanted them.
Gina Morhauser
Gina Morhauser of Merrimack, New Hampshire, cannot really explain the bond that formed between her family and the staff at Dartmouth-Hitchcock Medical Center (DHMC) as she prepared to give birth to her second son, Leo, in December 2017. "We immediately clicked with every single nurse that we had, every single person that helped us—from the nurses to the anesthesiologist and the doctors."
Morhauser received her prenatal care from Susan Krasner, MS, CNM, at Dartmouth-Hitchcock (D-H) Nashua, saying "Susan is incredible—she cared for me and my family during this pregnancy and for our first son, Joseph. She is the one responsible for coordinating the smooth transition for my delivery of Leo in Lebanon. Then, we continued our post-natal care with her." Though Morhauser could have chosen a hospital much closer to home for her scheduled C-section, she and her husband Justin decided to make the drive to Lebanon instead. "A few years ago, Joseph had hernia surgery at the Children's Hospital at Dartmouth-Hitchcock (CHaD). That amazing experience made us want to come back," she says. "I don't care if it's an hour and a half away."
And although Morhauser was quite nervous heading into the operating room to deliver Leo, her doctor and anesthesiologist, explaining everything that was about to happen, put her at ease. "Knowing step by step what we were going into," she says, "was a very calming experience."
The nurses at the DHMC Birthing Pavilion, who included Linda Ravgiala, MSN, RN, Amanda Cassidy, BSN, RN, and Ashleigh Stearns, BSN, RN, not only calmed and put her at ease during and following the baby's successful delivery, they took the opportunity to show the Morhauser's three-year-old son, Joseph, how to care for his new baby brother.
"When they were giving Leo a bath or changing his diaper, they would take Joseph over and show him how they do it," Morhauser recalls. "It melted my heart to see that interaction with Joseph."
About a week after Leo's birth, they noticed that he was having trouble breathing. Morhauser remembers, "We called the nurses' line and told them of Leo's symptoms. They asked us to take him to the local emergency room, where the doctors determined that he needed more specialized treatment than they could offer."
Despite there being a snowstorm that night, members of the Intensive Care Nursery (ICN) Transport team from CHaD in Lebanon—Jessica Guay, BSN, RN, Eric Comtois, RCP, and Chris Valley, EMT—headed to Manchester. "From what they tell me, it was the biggest ambulance in New England," Gina says. "Driving in a snowstorm freaks me out, but with them, it was very calming and felt so safe."
The Morhausers spent a few days at CHaD waiting to learn Leo's diagnosis, which turned out to be a case of bronchiolitis—a lung infection not uncommon in young children and infants.
"Everything was fine and now he's a healthy little boy," Morhauser says.
Doctors suggested that Leo stay a day or two longer to run precautionary tests. Morhauser remembers one special moment during those extra days when her older son, Joseph, spent time with members of the Dartmouth College hockey team who were volunteering at CHaD.
"They came in to give him a couple of toys and they were playing on the floor with him," she says. "They were the sweetest kids ever, and it's just so amazing that they do that."
Asked to name the core ingredient to her family's D-H experience, the Morhausers both agree: it's the people and how well they communicated. "You're never seen as a number; you're treated with dignity," she says. "And we always received an answer to our questions as they came up."
The distance from home during their time at CHaD may have worn on them a bit, but Gina second-guesses nothing. "I look at my son, and I wouldn't change it for the world."