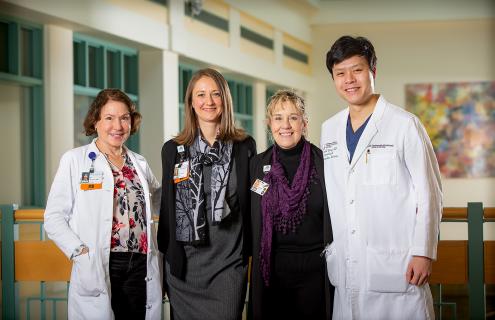 I felt like I was crazy. Everyone kept saying it was stress and you start to think you're imagining this. But my quality of life had dramatically changed and I couldn't even walk. I owe them my life.
Pamela Driscoll
After experiencing months of fatigue, shortness of breath and increasing heart palpitations, especially when she ran, Pamela Driscoll was pretty sure something was seriously wrong. But cardiac tests showed no issues and her original primary care physician kept assuring Driscoll that her problems were stress-related.
So, when the Grantham, NH, resident ultimately underwent a cardiac catheterization at Dartmouth-Hitchcock Medical Center (DHMC) on December 30, 2019, she was amazed to learn the cause of her symptoms—her heart's left anterior descending (LAD) artery had a 75 percent blockage. When the LAD artery is blocked, it can lead to a fatal heart attack, which is why they are known as "widowmakers."
"They called me the New Year miracle," says Driscoll, a risk manager in DHMC's Risk Management Department. "Thank goodness I went to Dr. (Polina) Sayess, Dr. (Merle) Myerson and Dr. (Michael) Young. I would've had a heart attack and died. I owe them my life."
Driscoll's story is one of persistence and genetics. In the spring of 2019, her primary care physician put Driscoll on medication for her high cholesterol and advised her to reduce her stress. But while training for a 5K in May, Driscoll felt nauseous and experienced radiating pain down her arms. "I felt like I was having a heart attack," she says.
Her physician ordered an EKG (electrocardiogram), which looked good, and again attributed her symptoms to stress. Driscoll disagreed and established new care through Dartmouth-Hitchcock's LiveWell/WorkWell Primary Care (a D-H employee health program) and saw Sayess, in September 2019. Driscoll explained that she couldn't run anymore and experienced chest pain just walking up a short incline. She also shared her family history—her brother died of a massive heart attack at age 43 and her mother died of heart failure.
"I was alarmed by her family history, even though her stress echo was normal," says Sayess. "I suspected familial hypocholesteremia, ordered more tests and sent her to Dr. Myerson, one of our DHMC cardiologists."
When she saw Driscoll in early December, Preventative Cardiologist Myerson confirmed that Driscoll had familial hypocholesteremia, a hereditary condition that impacts one in every 250 people worldwide. Familial hypercholesterolemia is often indicated by very high LDL-C (LDL stands for low-density lipoproteins and is sometimes called the "bad" cholesterol) and, if left untreated, can lead to early heart disease. After her appointment with Myerson, the question was whether Driscoll needed a more invasive procedure. Sayess had ordered a number of cardiac tests for Driscoll throughout the fall, but all of them came back negative.
"The echo stress test is a good test, but as I tell patients, it's a test from the outside—not the inside—of the heart," says Myerson. "Pam clearly had markedly elevated LDL and a remarkable family history. Those two things really jumped out at me and made me suspect that she had a significant blockage."
Immediately after her appointment with Driscoll, Myerson consulted with D-H Interventional Cardiologist Michael Young, MD. "I don't like to send someone for an invasive procedure unless I think things don't look good," says Myerson. But based on her family history, her very high LDL cholesterol and worsening symptoms, they agreed that a cardiac catheterization was a good idea and scheduled one for the end of December.
It turned out not only to be a good call, but a potentially life-saving one. "When we saw her images, I was surprised by the location of the blockage in that major distribution artery," says Young, who inserted a stent into the clogged artery with a balloon catheter during the procedure. "If it had progressed to 90 or 95 percent, or become occlusive of blood flow, then we may have met her in a different circumstance, in the Emergency Department."
When she saw the image of the blockage, Driscoll was stunned but relieved. "I grabbed Dr. Young's hand afterwards—the three of them really listened to me and they saved my life," she says. "I felt like I was crazy. Everyone kept saying it was stress and you start to think you're imagining this. But my quality of life had dramatically changed and I couldn't even walk. I owe them my life."
Now that she knows she has familial hypocholesteremia (read more about this condition in this D-H story), Driscoll is on the proper medication and will continue to be carefully monitored. She notes that her diagnosis will also benefit her daughter and her grandchildren. They can now be tested and take cholesterol-lowering medications if they inherited the genetic abnormality.
Myerson says it's important to diagnose and manage familial hypercholesterolemia in childhood. "Premature heart attacks in a first degree relative is a red flag," she says. "So, knowing your cholesterol numbers from a young age is important. If they are high or there is a clear genetic abnormality, make sure you get it addressed and get on the appropriate cholesterol-lowering medications."