By

Tom Haushalter

Photography by

Mark Washburn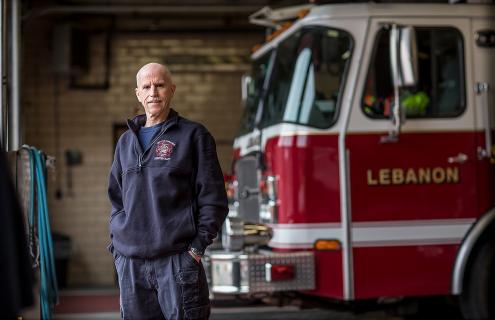 I can't wait to get the clearance to go back to full duty, but I'm taking it one step at a time.
Rick Lounsbury, Lebanon, NH
Close to midnight on December 28, 2016, a call came in to the Lebanon Fire Department that heavy smoke was billowing from the First Baptist Church located downtown.
Rick Lounsbury was one of the firefighters who responded to the scene to battle the fire that ended up destroying the historic structure.
A firefighter for 27 years—22 of those with the Lebanon Fire Department—Lounsbury prides himself on his physical fitness at age 60. "It's been a great motivator to still be able to do the job," he says, "and a good challenge for me to keep up with the younger guys."
If Lounsbury, an avid runner and regular at his fitness club, had any physical concerns on the night of the church fire, it might have about been his right shoulder, which he had previously dislocated four times.
"We were getting set up to start the firefighting operation," he recalls, "and I was opening a fire hydrant to feed the water supply to one of the trucks."
When he turned the valve on the hydrant, Lounsbury met some brief resistance with his outstretched right arm and he says, "My shoulder popped out of joint."
Thomas Trimarco, MD, emergency medical services director at Dartmouth-Hitchcock Medical Center (DHMC), was on standby at the scene and brought Lounsbury over to the ambulance, stabilized his shoulder and asked him if he wanted him to put his shoulder back in place. Says Lounsbury, "I told him, 'I don't think you have enough pain medication on the ambulance.'"
Lounsbury was transported to DHMC a few hours later to see a doctor in the Emergency Department who performed a shoulder reduction—the technique to move his shoulder back into place. About 4:30 am, Lounsbury rode in the ambulance back to the fire station to collect his gear and his truck and headed home.
While at DHMC, Lounsbury was encouraged to make an appointment with John-Erik Bell, MD, in Orthopaedics, who had treated Lounsbury's right shoulder from previous dislocations and knew how unstable it was. "We had discussed surgery in the past, but I had always preferred physical therapy instead," says Lounsbury.
This latest dislocation, however, convinced him it was time, he says, "to go the surgery route."
A computerized axial tomography (CAT) scan and magnetic resonance imaging (MRI) of Lounsbury's shoulder showed that he had damaged the bone in the front of the shoulder socket.
In January 2017, Bell performed what is known as a Latarjet procedure, which involves transferring pieces of bone and muscle from another part of the shoulder to the front of the socket, effectively keeping the shoulder from slipping out and giving it more stability.
Lounsbury's surgery took about three hours, and he was discharged from DHMC later that day with his arm in a sling and a prescription for pain killers.
That is when, he says "the tough part about shoulder surgery" began: the recovery.
Although the pain subsided after two weeks, Lounsbury faced the challenge of working to regain strength and range of motion in his right arm and shoulder. And being right-handed he had learn to do everything with his left hand.
Lounsbury worked with physical therapists Aimee Burnett Greeley, PT and Thomas Sullivan, PT, OCS at Dartmouth-Hitchcock's (D-H's) Heater Road location, first on exercises to improve his range of motion and, after six weeks, incorporating strength-building techniques. Twelve weeks into physical therapy, Lounsbury made significant improvements and even got the go-ahead from Bell to resume some light weight training at the fitness club.
Lounsbury was determined not to let his firefighting career end this way. After meeting his physical therapy goals, he transitioned to the Work Conditioning Program, also offered by Rehabilitation Medicine. This interdisciplinary and collaborative program, combined with his one-on-one physical therapy, was the necessary combination to prepare Lounsbury for his return to firefighting.
Dana Tinker, OT, David Minshall, PT and Rosie Pelletier, PTA crafted a set of exercises as part of D-H's Work Conditioning Program that focused on lifting, carrying, dragging and pushing weights, consistent with what is expected of a firefighter. "My change in strength and endurance after three weeks of conditioning surprised me and was a great benefit to my recovery," says Lounsbury.
By taking his recovery a step at a time, Lounsbury was able to return to active fire duty in September 2017.