By

Bonnie Barber

Photography by

Kata Sasvari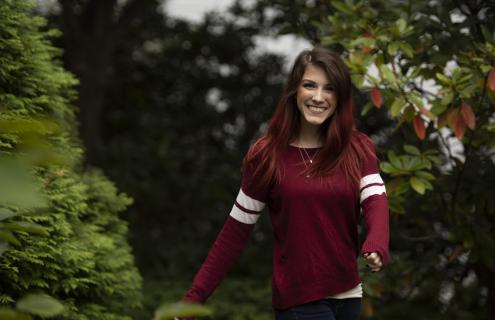 "When people hear that my girlfriend has had several strokes, they ask, 'How old is she?' They think I'm dating a much older woman," says 25-year-old CJ Schiessl. "When I tell them Samantha was 19 when she had her first stroke and she's 24 now, they can't believe it."
Samantha Houle, was your typical college sophomore when she had her first stroke in the spring of 2014. She was physically fit from years of competitive dancing and was preparing for final exams at Plymouth State University in Plymouth, New Hampshire. When she had trouble smiling for a group photo with some of her classmates in early May, the last thing she suspected was a stroke. A few days later, when a friend handed her a book and she couldn't pick it up, she called her parents in alarm. Since her paternal grandmother lived nearby, her parents arranged for her to take Houle to the Emergency Room at Speare Memorial Hospital in Plymouth.
She was initially treated for Bell's palsy, which runs in her family and causes sudden facial weakness or paralysis. But doctors ultimately ruled that out and instead began to suspect multiple sclerosis (MS) since Houle's maternal grandmother has MS. When her left arm started going numb and her hand stopped working, Houle returned to Speare for a computerized tomography (CT) scan followed by a magnetic resonance imaging (MRI) scan two days later. Those images were sent to Dartmouth-Hitchcock (D-H) neurologist and stroke expert Tim Lukovits, MD, who made a preliminary diagnosis of moyamoya, a rare condition in which the flow of blood to the brain is limited by blood vessels that have become too small and narrow, often leading to strokes, muscular weakness or paralysis. The disorder was first identified in Japan and the word "moyamoya," meaning "puff of smoke," describes the appearance of the tiny arteries that develop at the base of the brain in response to the blood flow deficit created by the carotid artery narrowing.
"We could see the stroke on the right side of the brain that gave her the facial weakness and we also saw that there seemed to be a severe narrowing at the top of the right carotid artery where it passes behind the eye, and on the left side to a lesser degree," says Lukovits, medical director of Dartmouth-Hitchcock Medical Center's (DHMC) Cerebrovascular Disease and Stroke Program. "For someone her age, there are not a lot of diseases aside from moyamoya that cause the arteries to be small at that location inside the head."
Houle was immediately transferred to DHMC, with her grandmother accompanying her in the ambulance. "The EMTs [emergency medical technicians] told me that DHMC is called the Emerald City, like in the 'Wizard of Oz,'" Houle says. "We all thought that was so funny because my grandma's name is Glenda."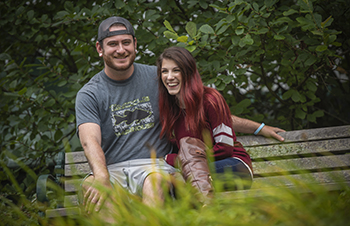 A computed tomography angiography (CTA) scan at DHMC confirmed that she had moyamoya disease, which typically occurs in young children or in young adults at around age 30, "so, Samantha is in between the two groups," Lukovits says. "People can have this disease for a while and just be asymptomatic because it develops slowly, or they might have episodes that are disregarded or thought to be a seizure or a migraine aura. Many patients can recall having some episodes, but they often don't get attention until they have a stroke."
Houle underwent surgery on the right side of her brain at DHMC on June 10, 2014. That fall, she returned to Plymouth State and her normal college life, graduating cum laude in June 2016. Two months later, she started working full-time as an early childhood teacher in Connecticut. But in March of 2017, the right side of her face started to droop and she began to slur her words. Lukovits explains that moyamoya frequently affects both sides of the brain, which can lead to more strokes and the need for additional neurosurgeries.
In June of 2017, Houle suffered another stroke back home in Connecticut. This time her memory, her ability to choose words and her thought process were affected. She underwent two more brain surgeries at Boston's Children's Hospital on June 21, 2017, on the left and middle sections of her brain. But she suffered three more strokes that same day, following the surgeries, which affected her speech. After three months of speech therapy, Houle's speech had improved enough that she was able to return to work part-time as an early childhood teacher in October 2017. She completed speech therapy and resumed full-time work in April 2018. Lukovits, who still sees her, says her long-term prognosis is good since the the extracranial-intracranial bypass surgeries have improved her blood flow.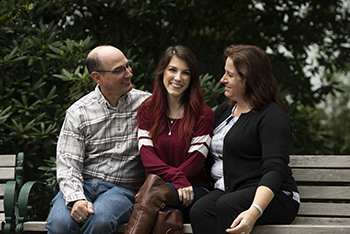 Despite the ups and downs, she has endured, Houle is endlessly positive and upbeat. She is also eager to help others and is an advocate for moyamoya and stroke awareness. Her cousin Victoria Houle Warren was inspired by Houle to found the MoyaMoya Foundation, a charitable non-profit organization that she launched in late 2018, with the endorsement of Samantha's parents Dean and Roxanne Houle.
"People ask me how I can be so happy after having so many strokes, and a big part of it is because my family and CJ really helped," says Houle. "But I want people to know that things can get better after having a stroke. It doesn't end your world. Even though you might not be able to walk the same or talk the same, you can do whatever you did before. You may just have a new normal. And you just have to go with that and know that everything will be okay and stay happy and positive."
For more information on D-H's Cerebrovascular Disease and Stroke Program visit here.