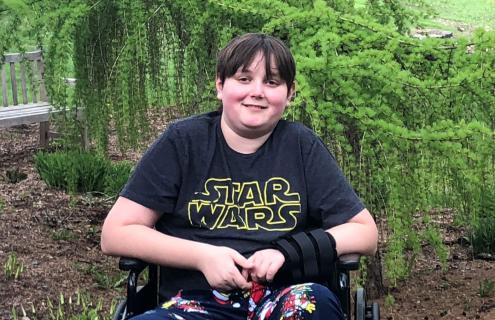 I feel so thankful for the doctors and nurses who were there to help me when I needed them. They're true heroes.
Seth Corbeil
Twelve-year-old Seth Corbeil will likely never forget Saturday, March 28. COVID-19 had closed his school and sent everyone into lockdown. Hoping to cheer up the doctors and nurses at nearby Brattleboro Memorial Hospital with sidewalk chalk drawings and messages, Seth, his mother, Jessica, and brother Sawyer, headed out on their bikes. "I wanted to thank the doctors and nurses who work no matter what is happening in the world," says Seth.
Much was about to happen to him. Going downhill on his bike, Seth's brakes failed. He hit a curb and took a terrible fall. "I could tell right away it was bad," says Jessica.
The handlebar of Seth's bike had impaled his leg between the femoral artery and vein. Two Brattleboro Hospital employees on their way to work, one an emergency room nurse, stopped to help, while a neighbor called 911. Seth was taken to the emergency room, had a CAT (computerized axial tomography scan) scan, received stitches and got a cast for his broken wrist before being discharged to go home. When he stood up to leave, he passed out and was taken to the Children's Hospital at Dartmouth-Hitchcock (CHaD), where pediatric trauma specialists could observe and, if needed, treat him.
"Seth came in on the first or second day of the quarantine, and we were COVID-19 central," says Jill Rockwell, APRN, Pediatric Surgery, CHaD. "We didn't want children to stay any longer than necessary and conferred with his primary care provider in Brattleboro. She was able to provide follow-up care, and, after two days here, Seth went home."
A few days later, swelling near Seth's wound site was pulling his stitches. A CAT scan performed in Brattleboro showed a hematoma, and Seth headed back to CHaD.
"Seth was in real trouble when he got here," says Rockwell. "It was scary anyway, and because of COVID-19 we were all masked and wearing goggles. It was hard for Seth to know who was talking to him. I decorated my mask with martians just for Seth. I wanted him to see it was me."
"We had suspended elective surgeries, but Seth's was an emergency," says Daniel Croituro, MD, Pediatric Surgery, CHaD. He removed the hematoma to relieve pressure on the wound area, and because it was a potential source of infection, he placed a wound VAC in Seth's thigh.
Wound VACs promote healing via a vacuum pump that creates negative pressure around the wound area. A foam bandage covers the wound and requires frequent changing, a process that can be painful and often requires anesthesia. "The wound VAC helped," says Jessica. "Seth was feeling better. But when Seth went to CHaD PainFree to have his first bandage change, there was a lot of abnormal bleeding."
"A minor procedure led to our discovery of a major problem," says Philip Goodney, MD, MS, Vascular Surgery. An infection from the hematoma had eroded the femoral vein. An emergency procedure saved Seth's life. Goodney, along with his colleague from Vascular Surgery, Bjoern Suckow, MD, and Croituro, repaired the hole in the vein and stopped the bleeding. "It's the kind of amazing thing we're prepared to do day-in and day-out," says Goodney. "However, in this case, with COVID-19 procedures in place, we did it in unusual circumstances."
Seth still had a few weeks of procedures and healing ahead. He had regular wound VAC bandage changes under anesthesia at CHaD PainFree, and Gary Freed, MD, Plastic Surgery, repaired a hole that remained in his thigh. On May 4, Freed grafted skin over the wound, and on May 11, Seth said good-bye to his wound VAC.
Now at home in Brattleboro, Seth is doing physical therapy with visiting nurses and is slowly but surely regaining his strength and mobility. "He's doing great," says his mom.
Seth's parents appreciate the support the entire family found while at CHaD. "They never missed a beat," says Jessica. "COVID-19 added some worry, but we were happy to wear masks to keep everyone safe. The nurses always made sure I had everything I needed for staying overnight. Everyone was sweet and caring and confident and made us feel safe."
Sawyer, Seth's nine-year-old brother, wanted to make sure the nurses and doctors saw that appreciation, and asked his mom if he could do chalk drawings at Dartmouth-Hitchcock Medical Center. "He dedicated them to the PICU team, Seth's surgeons and nurses, and CHaD. It's an even better feeling when you do it for the people who helped someone you love," say Jessica.
Seth agrees. "I feel so thankful for the doctors and nurses who were there to help me when I needed them. They're true heroes."