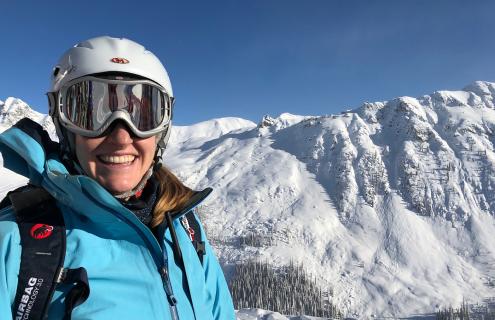 I'm glad to have the clinic as a resource and appreciate efforts to better understand and treat long-haul COVID-19 symptoms.
Laurel Carter
Laurel Carter started having breathing problems in April 2020. "I'm 34 and have been an athlete my whole life. I was on the U.S. Ski Team before college, but suddenly I couldn't walk upstairs," says Carter. 
At the time, COVID-19 testing was hard to come by. Doctors advised Carter to stay home and rest, but her breathing didn't improve. She was so fatigued that she had to limit routine activities like grocery shopping and cooking to one thing per day. "I went to many doctors and was tested for everything from pneumonia to lung cancer," says Carter. "Now, doctors are seeing my issues as the lingering effects of COVID-19."
COVID-19 symptoms that appear or persist more than 12 weeks after initial illness define "Post-Acute COVID Syndrome" (PACS). Common symptoms include profound fatigue, cough, shortness of breath after minimal exertion, difficulty with thinking and concentration, depression, anxiety, muscle aches, rapid heart rate, headache and low-grade fever. 
"PACS was first noticed in urban areas where infection rates were high," says Jeffrey Parsonnet, MD, Section of Infectious Disease and International Health. "We began seeing patients with persisting COVID-19 symptoms last fall and are now seeing a surge of patients who contracted COVID-19 this past winter."
Dartmouth-Hitchcock Medical Center (DHMC) recently opened the region's first PACS clinic to care for these patients and learn more about their illness. "Pulmonologists, neurologists, cardiologists, internists, rehabilitation medicine specialists and psychiatrists have been working together with the Infectious Disease Section to establish protocols and coordinate care," says Parsonnet. "In the first six weeks the clinic was open, we had 162 referrals."
Parsonnet describes himself as being the clinic's gatekeeper. "I review all of the referrals that come from primary care physicians of patients who had documented acute COVID-19 and who have symptoms that persist at least three months out from the initial illness."
The most common symptoms seen across PACS patients have been fatigue, anxiety and depression. "PACS seems to be more most common in women, not just at DHMC, but at other institutions as well. This might be because women have stronger immune responses or because they're more likely to seek medical help for persistent symptoms."
Still struggling with whole-body fatigue, chest pain after activity, mild brain fog and breathing issues, Carter is just beginning to engage with the PACS clinic. "I'm glad to have the clinic as a resource and appreciate efforts to better understand and treat long-haul COVID-19 symptoms," says Carter. "Over a year out from first being ill, I'm still looking forward to having enough energy to take a shower and make dinner in the same day."
To learn more, visit Post-Acute COVID Syndrome Clinic or call 603-650-9484.