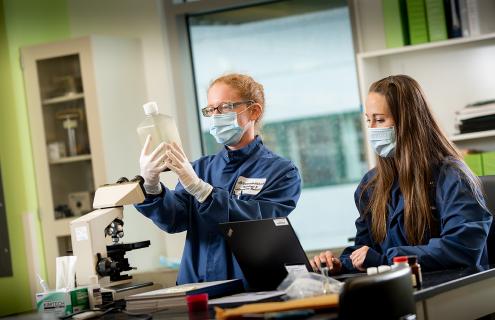 Not only can you see a spike of the virus in wastewater up to seven days sooner than you see patients presenting with symptoms, but you can test a large group of people all at once.
Jacqueline Hubbard, PhD
The presence of SARS-CoV-2—the virus that causes COVID-19—in municipal wastewater can give an early warning that the virus is re-emerging in that area. Dartmouth-Hitchcock (D-H) researchers are now looking to sewage or wastewater for information about the status of the virus in specific communities; with these warnings, community leaders and public health officials could more promptly manage outbreaks and make better, data-driven decisions about re-opening local economies.
National momentum
The Centers for Disease Control and Prevention (CDC) is launching a National Wastewater Surveillance System (NWSS) to collect data nationwide, better understand the data, and determine best practices for testing.
The CDC is recruiting sentinel sites, or locations that are already ramping up this kind of testing.
"There is definitely national momentum behind this topic," says Martin. "Here at Dartmouth-Hitchcock, we feel well-positioned to be at the forefront of testing in our region, contribute our data to the national effort and help develop the best methods for testing."
COVID-19 is well known as a respiratory disease. Lesser known is that about 60 percent of people who are infected with SARS-CoV-2, shed it in their stool.
Co-leading the wastewater surveillance testing project team for D-H are clinical chemist Jacqueline Hubbard, PhD, and medical microbiologist Isabella Martin, MD, along with project coordinator Gregory Tsongalis, PhD, Vice Chair for Research and Director of the Laboratory for Clinical Genomics and Advanced Technology in the Department of Pathology and Laboratory Medicine at D-HH. The project name, RECOVER, stands for REgional COVID-19 Virus Evaluation in Recrement. "The idea of testing wastewater for SARS-CoV-2 bubbled up early on in the pandemic around the globe," says Martin. "So it seemed like a good way of improving our overall understanding of the pandemic here in our region."
Martin and Hubbard emphasize that wastewater surveillance will not replace human diagnostics, but is expected to complement it. Especially in institutional settings, it could provide an efficient, cost-effective and less invasive early "heads up" of a significant spread of SARS-CoV-2. "Not only can you see a spike of the virus in wastewater up to seven days sooner than you see patients presenting with symptoms, but you can test a large group of people all at once, regardless of symptoms. In facility-specific settings, you can save a lot of resources required to constantly test individuals," says Hubbard. "Plus, the workers at the municipal wastewater treatment plants have been so enthusiastic about participating, which has been rewarding for us."
Plan of action
This project will be carried out in three phases. The preparation phase is for adapting and comparing methods already available in their clinical laboratory, as there are currently no standardized wastewater testing protocols [for SARS-CoV-2]. The team will make sure all components of the process are working properly, including collection, transportation, storage and testing of the samples. Also important is to establish relationships with local wastewater treatment facilities and partner with public health experts at the state level who can use wastewater data along with other indicators to track the virus.
In Phase 2 the team will test wastewater from three different municipalities daily for two weeks, to refine their methods. "This 'pilot study' is our way of testing our sample labels, courier schedules, storage, and ability to handle increased testing volumes," says Hubbard. "It also gives us an opportunity to capture any trends in virus levels in the waste water at each site and correlate with trends in active cases."
In September the team will enact Phase 3, with a goal of broader surveillance at more sites across Vermont and New Hampshire. They will also include individual institutions such as nursing homes, prisons and colleges to monitor specific at-risk communities. "Institution-specific sampling has the potential to replace some of the human screening testing we're doing right now, but we need to gather data and prove that," says Martin. "For instance, in New Hampshire, there is a program to test all nursing home employees and 10 percent of residents for SARS-CoV-2 every 10 days. Testing the facility's wastewater instead could offer a broad snapshot of its entire population and an indicator of whether further testing or action might be needed." 
The value of data
Project goals include better understanding sources and patterns of the virus in the region, and eventually producing actionable information. "If we see a rise in the virus in one facility's wastewater, for instance, the Public Health Department and health care leaders can consider increasing individual nasal swab testing, enacting more personal protective equipment (PPE) requirements, adjust social distancing recommendations, or take whatever action is needed depending on the severity of the situation," says Hubbard. "Such responses are more difficult in larger municipalities of tens of thousands of people, and will require more data to show how best to interpret and act on those findings."
A challenge the team faces as wastewater testing becomes more popular nationwide is supply chain shortages, as was the case when demand for diagnostic testing in humans increased earlier this year. Working out details of sample transportation and storage while maintaining specimen stability also presents logistical challenges.
Martin describes the project as an evolving approach, the full significance of which is still being figured out. "But it's an exciting project with a lot of potential that we're doing here at Dartmouth-Hitchcock and will hopefully make it a little easier to understand the pandemic in New Hampshire and Vermont."