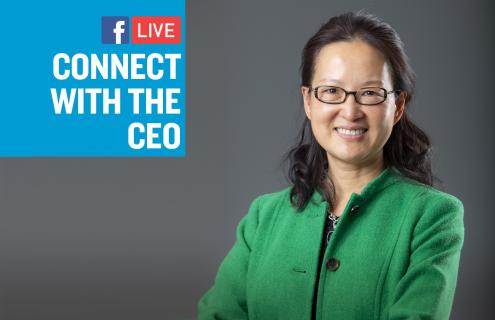 Lebanon, NH – As American Heart Month draws to a close, Dartmouth-Hitchcock Heath (D-HH) wants to remind the public that heart health is critically important year round. Cynthia C. Taub, MD, MBA, FASE, Dartmouth-Hitchcock's (D-H) new section chief of Cardiovascular Medicine, will join D-HH CEO and President Joanne M. Conroy, MD, at noon on Tuesday, February 23, for the latest installment of the "Connect with the CEO" series, to answer questions from participants about cardiovascular health and issues live on the D-H Facebook page.
"As a cardiologist, American Heart Month is a crucial time for those of us in cardiovascular medicine to get the word out about the importance of heart health," Taub said. "It's very fitting that my position with Dartmouth-Hitchcock Medical Center started during American Heart Month, and I look forward to joining Dr. Conroy to introduce myself to the community and get to share the message out about taking the best care possible of our hearts."
"Heart disease is the number one cause of death for American adults, so raising awareness and educating the public about it is key to reducing risk," said Mark A. Creager, MD, director of the D-H Heart and Vascular Center. "I urge everyone to tune into Drs. Taub and Conroy's discussion, and ask questions, it's the best way to learn how to keep your heart healthy."
To participate in the "Connect with the CEO" on Tuesday, February 23, at 12 pm, visit https://www.facebook.com/DartmouthHitchcock.
About Dartmouth-Hitchcock Health
Dartmouth-Hitchcock Health (D-HH), New Hampshire's only academic health system and the state's largest private employer, serves a population of 1.9 million across northern New England. D-HH provides access to more than 2,000 providers in almost every area of medicine, delivering care at its flagship hospital, Dartmouth-Hitchcock Medical Center (DHMC) in Lebanon, NH. DHMC was named again in 2020 as the #1 hospital in New Hampshire by U.S. News & World Report, and recognized for high performance in 9 clinical specialties and procedures. Dartmouth-Hitchcock Health includes the Norris Cotton Cancer Center, one of only 51 NCI-designated Comprehensive Cancer Centers in the nation Children's Hospital at Dartmouth-Hitchcock, the state's only children's hospital; member hospitals in Lebanon, Keene, and New London, NH, and Windsor, VT, and Visiting Nurse and Hospice for Vermont and New Hampshire; and 24 Dartmouth-Hitchcock clinics that provide ambulatory services across New Hampshire and Vermont. The D-HH system trains nearly 400 residents and fellows annually, and performs world-class research, in partnership with the Geisel School of Medicine at Dartmouth and the White River Junction VA Medical Center in White River Junction, VT.