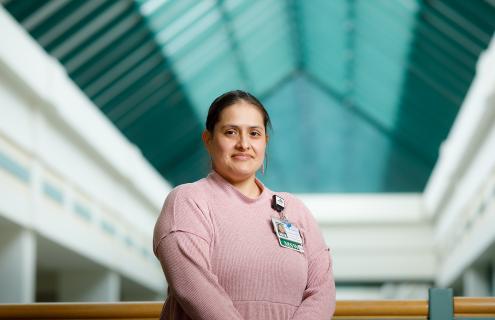 Social workers have a different kind of relationship with patients and their families. We play a crucial role in supporting their emotional needs and advocating on their behalf.
Alejandra M. St.Germaine, MSW
When an accident happens, a disease is diagnosed or a pandemic hits, nobody is prepared for what may lay ahead. Social workers help patients and their families find solutions for the best possible outcomes by taking a holistic approach to a patient's care, informing the ways they advocate for them.
Dartmouth-Hitchcock Health employs close to 100 social workers throughout the system. They work in many capacities supporting patients in both inpatient units and outpatient clinics. A social worker's primary goal is to assess the psychological, social, cultural and financial circumstances of a patient and their family, and connect them to resources and care. They are a consistent source of support throughout an illness or hospital stay.
In recognition of National Social Work Month, we spoke with social workers throughout Dartmouth-Hitchcock about their roles helping patients and their families.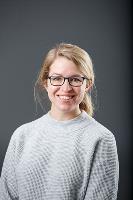 Abigail P. Horan, MSW, LICSW
Pediatric Inpatient Unit/Pediatric Intensive Care Unit, CHaD
There is a lot of communication and coordination in medical care, and that has its challenges. We gather all the context and bridge the medical team's care plan with what's best for the patient and the family.
When a family's world has just been rocked, we start by meeting their immediate needs—showing mom where the bathroom is, bringing her water and a banana, and letting her know she can spend the night at her child's bedside. And even though parents can feel as if their life has just stopped, the rest of the world keeps moving. They still have to worry about showing up for their job, paying bills, or getting their other children to school. We're there to be a sounding board and help solve their needs throughout their child's hospital stay.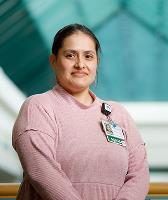 Alejandra M. St.Germaine, MSW
Inpatient Hospital Medicine, Dartmouth-Hitchcock Medical Center
Social workers have a different kind of relationship with patients and their families. We play a crucial role in supporting their emotional needs and advocating on their behalf.
I went into social work because I always wanted to help people, and I love being in the medical setting. I found my home in Hospital Medicine where each day is different, and I work with great teams. I also enjoy building connections with my social work colleagues across the organization; we support each other both professionally and personally. They are a great team to be part of.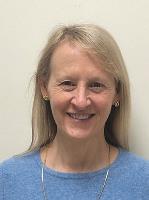 Catherine M. Reed, LICSW
Hematology, Stem Cell Transplant Team and GI Oncology, Norris Cotton Cancer Center
Our role allows us to develop a relationship with the patient and to provide them with emotional and practical support. Our cancer patients can feel overwhelmed and alone. We're part of a team treating the whole person, aiming to heal the body and soul, and to give hope.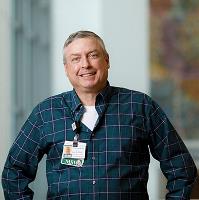 John Byrne, MSW
Hematology/Oncology and Hospital Medicine-Medical Specialties, Dartmouth-Hitchcock Medical Center
You learn what is important to the patient through the conversations you have with them, and that informs the best ways to help. We're helping their loved ones as well, providing that extra level of support like how to connect virtually or finding a way for a patient's spouse to visit because they can't drive. Sometimes, we have to navigate different family dynamics.
It's about being there for our patients while they navigate their cancer diagnosis, recurrence or other serious illness. Sometimes we sit with them in silence, just being a presence while they go through the emotions related to their circumstances.
It's rewarding to work with patients and families who welcome you into their lives for a brief moment of time.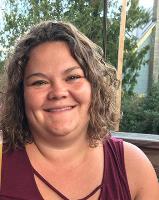 Jacquelyn M. O'Connor, LICSW OSW-C
Oncology, Norris Cotton Cancer Center-Nashua
Working with the cancer population is a different type of social work. It involves coping with the diagnosis, educating family members, explaining complicated medical terms and finding the right resources. We help the patients make the best decisions given the available information.
I have done a variety of different social work jobs over the past 15 years, and oncology social work has been the most rewarding. Even if the patients don't need my assistance, they're thankful I sat with them. Even though the outcomes are not always positive, I feel I've been able to make a difference in their lives.
Separating your personal and professional work can be challenging, so you have to practice good self-care, especially when you're working with people who have terminal illnesses. I'm grateful for the support I get from my social work peers at the other clinics.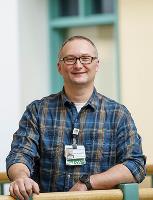 Phil Barbato, MSW
Trauma and Orthopedic Services, Dartmouth-Hitchcock Medical Center
In my role, I support patients and families who are most often getting medical care for unexpected, traumatic and often tragic events—when their lives changed in an instant. I am there to be compassionate, to help them figure out the next steps, to explain what a hospital stay involves and who all the people are coming in and out their rooms, and to provide information about their care. My role is to be a consistent presence and to alleviate any anxiety from the overwhelming nature of being admitted into an acute care setting, and at the same time, empowering patients to be their own self-advocates.
I enjoy building relationships and the face to face conversations. So when the pandemic hit, it was challenging. Connections are easier to make in person. It was harder to offer the intimate care I like to provide. There were times I had to do it standing outside the room window on my cell phone, introducing myself.
The challenge is reminding myself that I'm doing as much as possible, even when I wish I could do more. It's that drive to support people that keeps me going.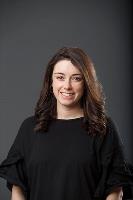 Madeline C. Ritter, MSW, LICSW
Pediatric Hematology/Oncology, CHaD
We support families when their child has been diagnosed with cancer and help address the realities that come with that diagnosis.
One of the biggest challenges social workers have is balancing our two different roles—being the patient and family advocate and a member of the medical team. When those goals head in the same direction, it's wonderful. But when they conflict, it can be difficult. We try our best to balance the priorities and values on each side.
I get to build close relationships with families during their whole treatment, which can be for months to years. It's a privilege to know them. Even in the hardest circumstances, there are beautiful moments full of meaning and love.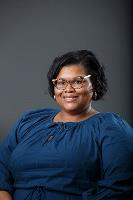 L'Tonya M. Johnson, MSW
Intensive Care Nursery, CHaD
Most babies who are born prematurely are born unexpectedly, and many of our patients are transferred here. That means many of them arrive with very little—not even a diaper bag full of clothes and new baby supplies. I help them work through those first couple of days of uncertainty, getting them to feel stable and making sure they have all the resources they need.
Babies stay in the Intensive Care Nursery on average from a month to four months, and that's a lot of time for parents to be displaced from the rest of their family. That means one of the parents might have to become the caregiver and stop working because they can't be in two places at once. It can be a major change in financial status and an emotional strain on the family—even if it's temporary. My job is to support them through this.
My role as a social worker is to listen to their stories and offer up compassion, perspective and vision for their future, providing families with a trajectory of hope. We don't always get to see that, but when we do, it's profound. I appreciate the value in helping people find hope where they couldn't. It's what inspires my work. Strong, healthy families mean stronger communities and a stronger world. I enjoy being able to help facilitate that.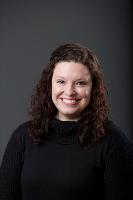 Mary M. Horan, MSW
CHaD Social Work, Birthing Pavilion
Social work is important because it helps other disciplines see and treat the whole person, not just the medical condition or information in the chart.
"I love helping people address or overcome barriers in their lives. Sometimes, the best thing you can do to help a patient is to just walk alongside them as they go through a difficult