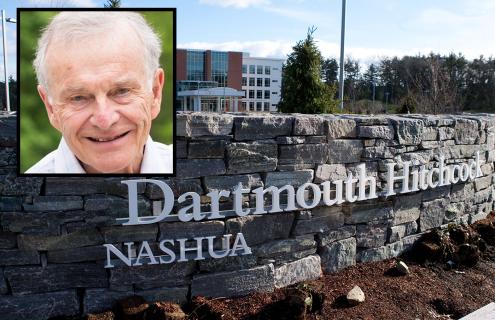 The late Jim Squires, MD, a general and vascular surgeon—and New Hampshire native—had a vision that would set the stage for a partnership connecting world-class healthcare throughout southern New Hampshire.
As a young physician, Squires saw the emerging trend of health maintenance organizations (HMOs) as an opportunity to provide affordable healthcare to communities and strengthen collaboration among physicians and specialists. So with a 20-page grant proposal and a lot of grit, Squires opened the Matthew Thornton Health Plan (MTHP), a multispecialty clinic and the first HMO in New Hampshire, on November 1, 1971. Despite initial resistance from the medical community, his persistence and vision prevailed, and the 10,000-square-foot clinic in Nashua became a beacon for the group of clinics that make up Dartmouth Hitchcock Clinics Southern Region.
In addition to being New Hampshire's first HMO, MTHP became a leader in the area on several fronts. It offered evening and weekend accessibility, lessening the need for people to seek care in emergency rooms and becoming the first urgent care facility in the Nashua area.
It was the first clinic in the area to form a health education department as part of a medical practice. Leading with a diabetes health program, soon to follow were a prenatal program, newborn program and eventually stress management, smoking cessation, and nutrition and family planning.
They were also the first clinic in the area to hire a midwife, pediatric surgeon, an infectious disease specialist and cardiologists. MTHP was also the first clinic in New Hampshire to use physician assistants, advanced practice registered nurses and nurse practitioners, and collaborated with Dartmouth Hitchcock Medical Center (then Mary Hitchcock Memorial Hospital) on the Medex program, a course of study at Dartmouth College designed to take non-nurse/non-physician medical staff and train them to work in partnership with physicians.
Squires encouraged "educational afternoons" for his staff of physicians and providers. "The conversations were educational for all specialties because each approach was different. Jim was very supportive of those kinds of collaborative conversations," says Richard Johnson, MD, former colleague and early member of the MTHP.
"Jim brought a culture of teamwork, excellence in quality and compassion. He believed in teamwork and commitment to excellence and community," says Sanders Burstein, MD, former medical director of what is now known as Dartmouth Hitchcock Clinics Nashua.
Growth and partnership: neighbors helping neighbors
A growing number of staff, patients and other needs led to the expansion of the Nashua building and, soon after, additional clinics in Merrimack, Milford and Hudson. At the same time, the Hitchcock Clinic was looking to expand world-class care throughout New Hampshire.
The Hitchcock Clinics had already begun working with MTHP through a joint venture with the Hitchcock Clinic in Manchester, which marked the future of a partnership. After adding additional MTHP clinics in Manchester and Concord, an official affiliation with the Hitchcock Clinics took place on May 30, 1989. Today, this grouping of clinics is known as Dartmouth Hitchcock Clinics Southern Region.
The affiliation extended the reach of an academic healthcare system to communities in southern New Hampshire and allowed medical students at Geisel School of Medicine to study in southern New Hampshire.
"We were rooted in New Hampshire, and we could, with this once-in-a-lifetime opportunity, put together a system that would benefit the entire state," Squires wrote in a letter to his employees regarding the affiliation.
Squires, who died in December 2022, continued to advance the field of health equity through his foundation of the Endowment for Health, distributing more than 33 million dollars to community organizations throughout New Hampshire. He served as town and school district moderator for the town of Hollis, New Hampshire, as a state senator and ran for governor in 2000.