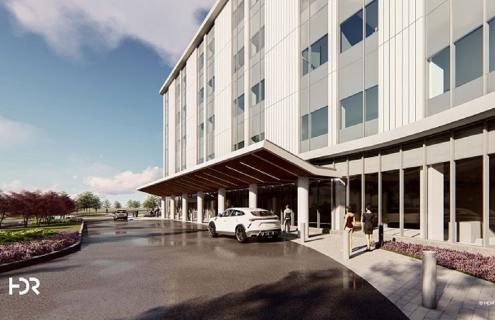 Cardiac care in this region will get a boost with the opening of Dartmouth Health's new Dartmouth Hitchcock Medical Center (DHMC) Patient Pavilion in May 2023. "DHMC will be increasing the number of heart and vascular beds by 25 percent, including a new unit for non-surgical patients," explains David Min, MD, director of clinical cardiology at Dartmouth Health, noting that this addition is vital in meeting the region's needs. "Heart and vascular issues increase with age. We have a population in northern New England that is aging, and there are limited resources to treat heart and vascular conditions."
Min came to DHMC in October 2022 from Intermountain Healthcare in Salt Lake City to oversee this expansion, which he calls "exciting." "We already have a sophisticated cardiology team, equipped to deliver the most advanced heart and vascular care possible," he says. "Currently, we're constrained by space. Every day, we turn patients away who want to come to DHMC for their heart and vascular care."
Come May, the heart and vascular unit will occupy all of Level 4 in the Patient Pavilion, Wings A and B, with 32 beds, as well as Level 3, Wing B, with 16 beds. "It's remarkable, beautiful space," says Min. "I've been in hospitals on four continents—in the newest facilities in Europe, the Middle East and Asia, in addition to hospitals all around North America. The new Patient Pavilion is truly state-of-the-art, incorporating cutting-edge technologies that will help us diagnose and treat patients faster. This will allow us to see more patients and open up our cardiovascular ICU to accept even sicker patients."
Improved patient experience
According to Min, the new heart and vascular space is designed to provide the best patient experience. "Right now, we have multiple patients in the majority of our rooms, which means less privacy and more noise," he explains. "That makes it harder for patients to sleep and for providers to have conversations with family members." In the Patient Pavilion, "all rooms will be private with space for loved ones to stay overnight," says Min. "The rooms also incorporate contemporary technology to help patients understand their condition as well as their treatment plan. Integrated tablets with MyChart Bedside will increase the ability of patients and family members to communicate with the care team. There will also be conference rooms where we can connect with patients and family members to have conversations about their care."
In addition, the expanded unit will feature wireless monitoring technology, which will give patients the freedom to move around and gain their strength back more quickly. Electronic signage both inside and outside of patient rooms will be updated in real time to alert the care team regarding changes in their condition.
"No one wants to be in the hospital," says Min. "I think Dartmouth Health has proactively and thoughtfully taken steps to recognize that and incorporate elements that allow for a better healing environment, which we know plays a role in patient recovery."
Planning for success
"All of us are very excited about what the new space can provide," says Min. He is currently leading a team of physicians, advanced practice providers, nursing and administrative staff on how to optimize patient care in the new Pavilion. "We want to remain true to a multifaceted mission of excellence in patient care, research and education. There are a lot of discussions about incorporating different care strategies and bringing in clinical research trials to our patients."
"The Patient Pavilion represents a real advancement in heart and vascular care," Min concludes. "Dartmouth Health is known as one of the leading providers of heart and vascular care in the country. The opening of the new Patient Pavilion will only add to that reputation."