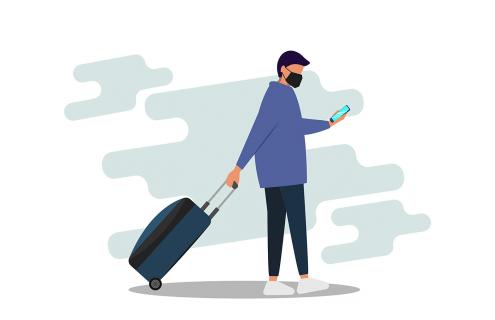 With summer in full swing and more people traveling now that COVID-19 restrictions have been loosened, staying safe and healthy on vacation should be on everyone's travel checklist.
Being in larger groups, especially with people outside of your bubble, raises questions about what masks are the best for travel, how to approach eating and drinking in public and how safe it is to travel with unvaccinated children.
Here are some tips for staying safe and healthy on vacation this summer:
Masks: consistency and fit are key
Masks are still required in airports and on airplanes, as well as on buses, trains and subways and in their terminals, for travelers who are two years of age and older.
With so many different kinds of masks, from simple cloth to heavy duty N95s, it can be confusing to figure out what type of mask is best for travel.
According to Jose Mercado, MD, associate hospital epidemiologist at Dartmouth-Hitchcock Medical Center, what's most important is not the type but consistency and fit.
"As long as you are keeping your mask on and it fits securely with no gaps between the mask and your face, you are sufficiently protected while traveling." 
Good hand hygiene
In addition to wearing a mask, practicing good hand hygiene is the most effective way to combat COVID-19, as well as other viruses like the common cold and the flu.
It is crucial to wash your hands frequently while traveling, or use hand sanitizer if that is more accessible, and to be wary of frequently touched surfaces such as doorknobs, handrails, toilet flushes and hand towels, as they may be more likely to harbor viruses. If you do touch them, be sure to wash your hands immediately. 
"The research has shown that the risk of contracting COVID-19 by touching objects is quite low, as the virus is primarily spread through respiratory droplets," says Mercado.
Eating and drinking in public
Since people are not wearing masks while eating and drinking, it's important to maintain physical distancing when possible, put your mask back on when you finish and maintain good hand hygiene.
Eating and drinking outside is always the best option if possible.
How can I protect my unvaccinated children?
At this time, Mercado recommends that parents with children under the age of 12 delay non-essential travel if possible.
"Although parents and other members of the group may be vaccinated, children under the age of 12 are unable to be fully protected from COVID-19, which increases the possibility of becoming sick," says Mercado. 
Even though COVID-19 restrictions have gotten less strict, it's still very important for us to keep each other safe as we travel regionally, nationally or even internationally this summer.