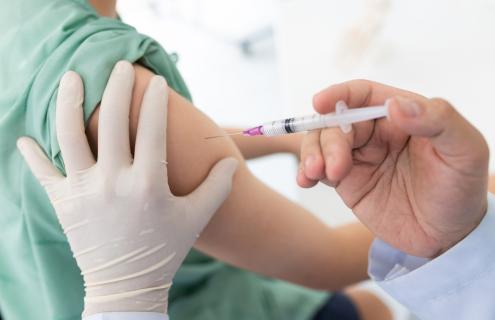 On Tuesday, October 11, 2022, Chief Quality Officer at Dartmouth Hitchcock Medical Center, Michael S. Calderwood, MD, MPH, and Vice President of Population Health for Dartmouth Health, Sally A. Kraft, MD, MPH, provided an update on the current state of COVID-19 in our region and the new COVID-19 bivalent vaccine which protects against the original virus and its Omicron variants.
Update on where New Hampshire and Vermont currently stand with COVID-19
COVID-19 case counts, hospitalizations and deaths in Vermont and New Hampshire are all trending down.
"We're seeing large protection from vaccination as well as individuals who have been infected," says Calderwood. "We also have good treatments available for those who get sick, and that's a big driver in terms of the better outcomes that we're seeing."
However, as expected during the typical respiratory virus season, those numbers are likely to increase as the winter months approach.
Bivalent boosters
Because cold and flu season is already in motion and people are spending more time inside, it's incredibly important for those who have not gotten an updated (or bivalent) booster yet to do so as soon as possible.
"Less than half of the people in the United States who are eligible for a booster have actually received one," says Kraft. "In New Hampshire, the rate of our eligible population that's received a booster is only 32 percent, and in Vermont, it is 53 percent."
Thankfully, accessibility to boosters is not an issue, as the Moderna and Pfizer bivalent vaccines are available through Dartmouth Health, as well as local pharmacies like CVS and Walgreens.
Should I get a bivalent booster?
Bivalent booster shots are authorized by the U.S. Food and Drug Administration and recommended by the Centers for Disease Control and Prevention (CDC) for all individuals aged 5 years and older.
If you have had COVID-19 recently, the CDC recommends that you wait three months to get a bivalent booster.
For more information about COVID-19 vaccines and how to make an appointment, please visit COVID-19 Vaccines.