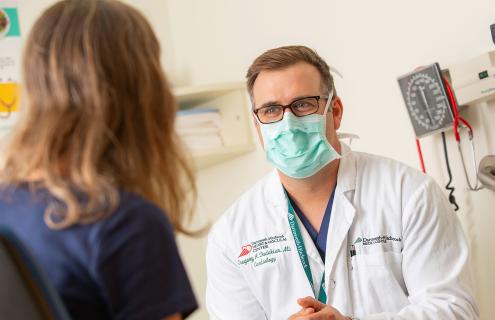 In the United States, the number of people of all ages who are involved in sports—either organized or recreational—has grown rapidly in recent years due to the well-known benefits of exercise and athletic participation. In response to this trend, Dartmouth-Hitchcock's Heart & Vascular Center in Lebanon, New Hampshire, has launched a new Sports Cardiology program to provide personalized screening and treatment services tailored to the unique needs of athletes.
Run by Gregory A. Dadekian, MD, Merle L. Myerson, MD, EdD, and David C. Peritz, MD, the Sports Cardiology Clinic provides expert cardiovascular care for all types of athletes at all levels of competition—including high school and college athletes, "weekend warriors" who participate in athletic activities in their spare time and older athletes who participate in competitive or endurance sports such as marathon running, ski racing, cycling and triathlons.
"The athletes we see in our clinic usually fall into two main groups: young, healthy athletes who need cardiovascular screening, and middle-aged or older athletes who have cardiovascular symptoms, endurance concerns or cardiovascular disease," says Dadekian.
The Sports Cardiology Clinic at Dartmouth-Hitchcock got its start by providing screening and treatment services for the approximately 1,000 student-athletes at Dartmouth College, located in Hanover, New Hampshire. Although the clinic continues to care for Dartmouth College athletes, Dadekian and his colleagues saw a need to make these services available to the public.
"The physiology in athletic cardiology patients is different, and the people in this group need specialized evaluation, treatment and activity recommendations," says Dadekian. "We receive referrals from other cardiologists because we offer specialized cardiovascular screening and management from an athletic perspective."
Sports cardiology incorporates many aspects of cardiology, including electrophysiology, imaging, structural heart disease and exercise physiology.
Dadekian, an avid ice hockey player for many years, recommends that all athletes (high school, collegiate and masters level) receive cardiovascular screening prior to participation in competitive sports. Based on the most current American College of Cardiology guidelines, the scope of screening is tailored to the individual and takes into account age, family history and personal history of cardiovascular symptoms or conditions. This is generally done by physicians or health care workers with training and experience. If abnormalities are detected, athletes should be referred to a cardiovascular specialist.
The purpose of screening is twofold: first, it facilitates detection of underlying cardiac conditions that could increase the risk of a cardiac event during athletic participation. Second, the screening exam provides a baseline assessment of cardiovascular health that can be used for comparison if cardiovascular symptoms—such as chest discomfort, palpitations or shortness of breath—develop in the future.
"During a screening, we perform an electrocardiogram (EKG), a physical exam and take a detailed personal and family history," says Dadekian. "Then, we integrate that data to determine if further evaluation is necessary."
When an athlete experiences cardiovascular symptoms or receives a diagnosis of a cardiovascular condition, it doesn't necessarily mean that he or she must stop participating in the sport they love.
A sports cardiologist can use his or her unique understanding of an athlete's physiology to confirm whether an athlete's cardiovascular condition is abnormal and whether it will affect the athlete's ability to participate in a particular sport. For example, ventricular or atrial dilation can occur in some long-distance runners as a result of their "athletic heart."
After the diagnosis is confirmed, the goal is to help the athlete weigh the risks and benefits of continued athletic participation. A sports cardiologist also may be able to offer specialized treatment and ongoing management that lowers cardiovascular risks and allows the athlete to return to play.
Learn more about the program here.