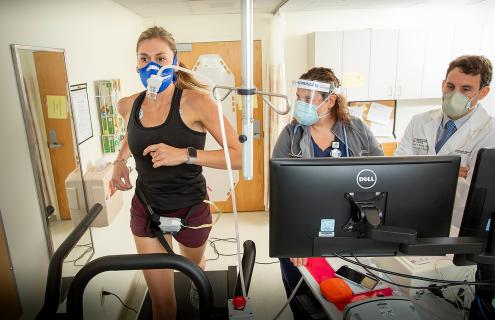 Our goal is to manage each patient's cardiovascular condition in a way that fits their needs, activities and level of participation.
As the benefits of exercise and physical activity have become more well-known, so have the number of college athletes, "weekend warriors" who thrive on endurance training and older athletes who participate in marathon running, skiing, cycling and triathlons. Unfortunately, physical activity doesn't offer immunity from cardiovascular disease or conditions. Athletes of all ages are playing it safe with personalized screening and treatment services at Dartmouth-Hitchcock's (D-H's) Sports Cardiology Clinic.
Part of D-H's Heart and Vascular Center, the Sports Cardiology Clinic typically serves athletes who fall into two main groups: young, healthy people who need cardiovascular screening and middle-aged or older people who have cardiovascular symptoms, endurance concerns or cardiovascular disease. "The physiology in the athlete subset is different from other cardiology patients," says Gregory A. Dadekian, MD, who along with Merle L. Myerson, MD, EdD, and David C. Peritz, MD, helps to run the clinic. "We receive referrals from other cardiologists because we offer specialized cardiovascular screening and management from an athletic perspective."
Sports cardiology incorporates electrophysiology, imaging, structural heart disease and exercise physiology. "We treat athletes in collaboration with other cardiovascular subspecialists," says Dadekian. "Our goal is to manage each patient's cardiovascular condition in a way that fits their needs, activities and level of participation."
Consistent with current American College of Cardiology/American Heart Association guidelines, the clinic recommends pre-participation cardiovascular screening in young competitive athletes. Extending screening to older, recreational athletes is also important. Screening has two main purposes. First, it helps to detect any underlying cardiac condition that could increase the risk of a cardiac event during athletic participation. Second, it provides a baseline assessment of cardiac health that can be used for comparison should symptoms like chest discomfort, palpitation or shortness of breath develop.
"During screening, we perform an electrocardiogram (EKG), a physical exam, and take a detailed person and family history," says Dadekian. "Then we integrate that data to determine if further evaluation is necessary."
Even when screening does turn up potential problems or when athletes experience cardiovascular symptoms or receive diagnosis of a cardiovascular condition, they can often continue participating in the physical activities they enjoy. With a unique understanding of the physiology of an athlete, a sports cardiologist is able to determine if a cardiovascular condition is abnormal and if it will have an effect on an athlete's level of activity.
"We treat patients who have arrhythmias, valve conditions and coronary artery disease," says Dadekian. "And, we specialize in creating solutions that allow athletes to continue to do the things that are important to them."
For more information on the clinic or to contact, visit here.