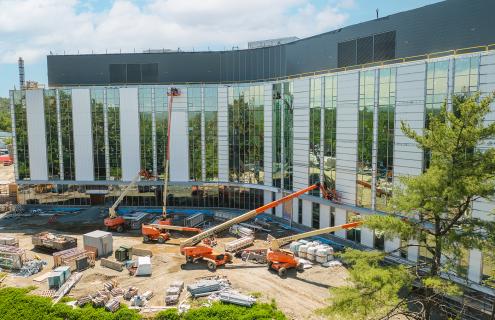 Set to open in spring 2023, Dartmouth Health's state-of-the-art new Patient Pavilion in its flagship academic medical center, Dartmouth Hitchcock Medical Center (DHMC), includes 64 single patient rooms located on Levels 3 and 4 of the five-level expansion. The opening will set in motion a series of exciting moves, renovations and cutting-edge technology enhancements that will benefit patients and employees beyond those who are being cared for and working in the new space.
"The Patient Pavilion is an expansion of our hospital, and it will launch a series of additional upgrades and moves to modernize our existing facilities," says Scott T. Slogic, RCP, RRT, director of the Patient Pavilion Activation. "We recognized, very early in the planning process, that this contemporary space would create a chance for us to relocate several inpatient units. This is the first opportunity we've had since moving into DHMC in 1991, to realign multiple care areas and bring the right teams and resources closer together. We are also putting technology in place that will benefit everyone; patients, families and employees."
Identifying the right services to relocate in the space was a critical first step. Described as "like a game of Tetris," determining who would move into the Patient Pavilion involved analyzing data from every service line, running different scenarios and evaluating the impact the proposed moves would have on quality, safety and efficiency as well as taking into consideration any philanthropic prospects and holding to our organizational mission. Over several months, members of the Access, Capacity and Transfers (ACT) Committee developed three different proposals for review by the Dartmouth Health Board of Trustees. In the end, we were highly encouraged that the most optimistic scenario for patients and employees—the "blue sky scenario"—was approved by the board. And what has emerged is a series of well-planned moves and renovations over multiple phases.
Phase 1: Cutting the ribbon
Phase 1 will happen with the opening of the Pavilion. In spring 2023, the current 36-bed Intermediate Cardiac Care Unit and Cardiac Special Care Unit (ICCU and CSCU), currently located on 4 East, will relocate to the Pavilion. "ICCU and CSCU will have 32 beds on Level 4 and 16 beds on Level 3 of the Pavilion. It provides 12 more beds than the current space," said Slogic, "and a new 16-bed Medical Special Care Unit (MSCU) will open on Level 3 of the Pavilion."  
Phase 2: Opening a new surgical unit
Immediately after the Pavilion opens, Phase 2 will begin when 4 East closes for approximately two months, and renovations begin to convert it into a surgical unit. "This is an ideal location for a surgical unit, as it is close to our operating rooms, post-anesthesia care unit (PACU) and to clinicians caring for other surgical patient populations on Level 3 and Level 4 West Inpatient Surgery," says Slogic. "After the unit is open, we will close a few patient rooms at a time to make equipment upgrades and install additional technology."
Phase 3: Neuroscience
Phase 3 is the next planned renovation work. "The 3 East space located next to the Neurocritical Care Unit (NCCU) will be transformed into a Neuro Special Care Unit (NSCU). The NSCU team and patients currently located on Level 5 will relocate to 3 East, bringing our specialists for neuroscience critical care and step down populations together," shared Slogic. "Our 5 West Neuroscience unit will then be able to expand into the space previously occupied by NSCU."
Future phases
Subsequent phases address Level 2. Our Inpatient Psychiatry unit on 2 East will be relocated next to the Inpatient Psychiatry unit on 2 West, bringing staff and patients together and creating one unit. 2 East will become one unit for Medical Specialties. "The timeline for these phases is still evolving, but we expect all of these moves to be completed within two years of the Pavilion opening," said Slogic. "As each area is renovated, it will be outfitted with the same state-of-the-art technology that's going to be available in the Patient Pavilion. The phased plan we are undertaking means multiple different teams will grow gradually, so we'll be adding additional employees and patients over time. It's going to be a very exciting and incredible few years for us."
Recent DHMC Upgrades Video
Here's a short video featuring several upgrades we've just completed inside DHMC to align our current space with the new Pavilion.