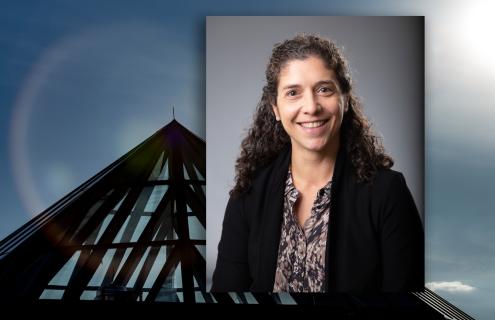 AFib and dementia independently are a growing concern with the aging of our population.
Emily P. Zeitler, MD, MHS
A cardiologist who specializes in the treatment of atrial fibrillation (AFib) at Dartmouth Health's Heart and Vascular Center at Dartmouth Hitchcock Medical Center served as lead author on a study published in the December issue of American Heart Journal on the risk of dementia among patients with AFib treated with catheter ablation versus anti-arrhythmic drugs. Catheter ablation is a procedure in which catheters are guided into the heart through the leg veins to burn or freeze small areas of the heart to reduce the risk of abnormal heart rhythms.
The study, headed by Emily P. Zeitler, MD, MHS, found that catheter ablation was associated with significantly lower risk of dementia compared to treatment with anti-arrhythmic drugs only.
"AFib and dementia independently are a growing concern with the aging of our population," said Zeitler. "Through this study, we sought to better understand the complex relationship between AFib and dementia by exploring how treatment type for AFib plays a role in the development of dementia, and how clinicians might reduce this risk. Catheter ablation, as a course of AFib treatment, may reduce this risk."
AFib is the most common type of cardiac arrhythmia, or irregular heartbeat, and impacts nearly 40 million people worldwide, and 6 million people in the United States alone. Cases of AFib are expected to increase to 16 million by 2050 in the U.S. AFib is associated with significant cardiovascular comorbidity, including multiple forms of brain injury such as stroke, cognitive impairment and dementia. Dementia in particular is a profound issue, with more than 10.5 million Americans predicted to be affected by 2050. Historically, dementia in patients with AFib was attributed to multiple strokes; however, studies have shown that AFib is associated with multiple forms of dementia, even in the absence of stroke.
According to Zeitler's study, AFib patients treated with catheter ablation had a 41 percent lower risk of dementia compared with those treated with anti-arrhythmic drugs. Reduced risk of dementia was observed among both subgroups of men and women. The reduction in the risk for dementia associated with catheter ablation versus AAD for women was 40 percent; in men, it was 45 percent.
To view the study in full, visit https://www.sciencedirect.com/science/article/pii/S0002870322001922.
About Dartmouth Health
Dartmouth Health, New Hampshire's only academic health system and the state's largest private employer, serves patients across northern New England. Dartmouth Health provides access to more than 2,000 providers in almost every area of medicine, delivering care at its flagship hospital, Dartmouth Hitchcock Medical Center (DHMC) in Lebanon, NH, as well as across its wide network of hospitals, clinics and care facilities. DHMC is consistently named the #1 hospital in New Hampshire by U.S. News & World Report, and recognized for high performance in numerous clinical specialties and procedures. Dartmouth Health includes Dartmouth Cancer Center, one of only 56 National Cancer Institute-designated Comprehensive Cancer Centers in the nation, and the only such center in northern New England; Dartmouth Health Children's, which includes Children's Hospital at Dartmouth Hitchcock Medical Center, the state's only children's hospital, and multiple clinic locations around the region; member hospitals in Lebanon, Keene and New London, NH, and Bennington and Windsor, VT; Visiting Nurse and Hospice for Vermont and New Hampshire; and more than 24 clinics that provide ambulatory services across New Hampshire and Vermont. Through its historical partnership with Dartmouth and the Geisel School of Medicine, Dartmouth Health trains nearly 400 medical residents and fellows annually, and performs cutting-edge research and clinical trials recognized across the globe with Geisel and the White River Junction VA Medical Center in White River Junction, VT. Dartmouth Health and its more than 13,000 employees are deeply committed to serving the healthcare needs of everyone in our communities, and to providing each of our patients with exceptional, personal care.