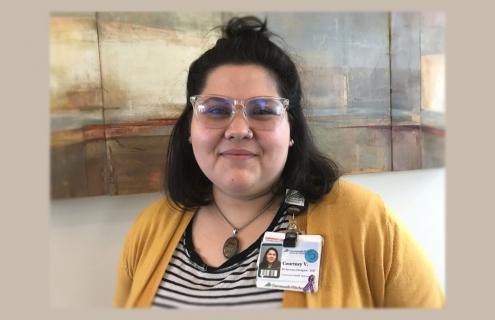 To get the treatment and support they need, patients have to feel safe enough to reach out and say, 'I need help.'
Courtney D. Vorachak, CRSW, NCPRSS
"I've just started wearing my Recovery Ally pin and patients are noticing," says Courtney D. Vorachak, CRSW, NCPRSS, behavioral health recovery navigator. "When they ask, 'What's that for?' it gives me an opportunity to share and explain the Recovery Ally Pledge."
Introduced to Emergency Department (ED) staff in September, Recovery Month, the Recovery Ally Pledge states: I pledge to do my part to create a health care system where mental health & substance use disorders are treated with the same urgency, respect and seriousness of purpose as other illnesses and where discrimination does not occur. 
"The pledge is based on the Substance Use Mental Health Initiative (SUMHI) vision statement," says Vorachak who developed the Recovery Ally Pledge program with Seddon Savage, MD, MS, FASAM, Bryan A. L'Heureux, MPH, and Lauren E. Chambers, MPH. "We adapted SUMHI's statement to create personal pledge taken by staff who encounter patients in need of substance use disorder treatment." ED staff who sign on to the program wear Recovery Ally pin, a badge attachment that carries the pledge statement, or both.
Vorachak has been working with patients who come to the ED with conditions related to substance use, undergoing withdrawal or exhibiting signs of addiction since 2018. "In the last three years we've noticed an increase in the number of patients who need treatment and services," says Vorachak. "The pandemic has increased their isolation from support systems and added stress." 
A patient's willingness to receive treatment depends on their trust in health care providers. "Substance use and addiction usually come with a lot of stigma and shame and patients often fear losing their kids or job or housing if a disorder is discovered," says Vorachak. "To get the treatment and support they need, patients have to feel safe enough to reach out and say, 'I need help".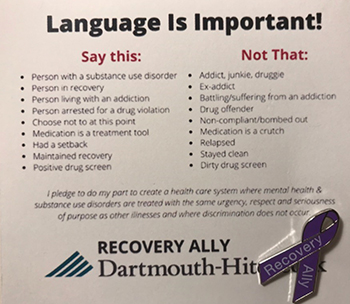 Recovery Ally Pledge buttons make Dartmouth-Hitchcock ED staff commitment to substance use disorder treatment visible to patients. They also remind staff that patients dealing with issues related to substance use or addiction should be treated like every other patient that enters the ED. "No one in the ED is there on their best day," said Vorachak. "All patients deserve the same level of respect and care."
Buttons and badge attachments will begin appearing in the ED at the end of September. "We're starting small and rolling the program out in the ED first but will expand as needed," says Vorachak. "Recovery Month has provided a good opportunity to talk about something that is important throughout the year."
If Vorachak's badge-wearing experience is an indication, Recovery Ally pins and badge attachments will open up important conversations and treatment doorways for patients who want to address substance use. "Patients who have asked about my badge said they felt more comfortable talking about their use of drugs or alcohol," says Vorachak. "It's important for everyone to see that they are welcome."