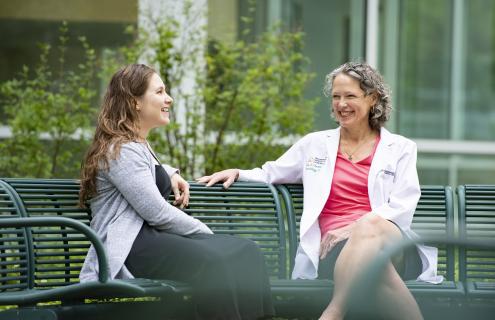 There is strong evidence that exercise improves health-related outcomes among survivors of breast cancer.
Mary D. Chamberlin, MD
Aside from physical recovery, women recovering from breast cancer treatment can struggle to get their strength and energy back to return to work and their normal daily lives. While clinical trials often study new medications, they also study new ways to help survivors in recovery. Dartmouth-Hitchcock's Norris Cotton Cancer Center (NCCC) has 20 to 30 actively enrolling breast cancer treatment and recovery clinical trials to learn what works best for our patients to reach their goals.
Recovering physical health
Treatment for breast cancer can be exhausting. Survivors often experience medication side effects, fatigue, depression and anxiety that lead to less physical activity, weight gain and reduced muscle mass. Studies show a higher risk of cancer recurrence and even death for some women who are overweight at diagnosis, or who gain weight after diagnosis.
The good news? These effects can be limited and improved by structured exercise and weight loss recovery programs.
For example, in the Breast Cancer and Weight Loss trial, researchers are studying the role of weight loss in recovery and disease recurrence for overweight women with early breast cancer. Participants receive a structured Health Education Intervention and supervised weight loss program with trained coaches.
"There is strong evidence that exercise improves health-related outcomes among survivors of breast cancer," says Mary D. Chamberlin, MD, medical director of NCCC's Comprehensive Breast Program and principal investigator of NCCC's participation in the Breast Cancer and Weight Loss trial. "Studies show that for every 15 minutes of exercise per week, breast cancer mortality drops by 2.5%."
Amy Visser-Lynch chose to participate in 5 clinical trials during her breast cancer treatment and recovery journey. "The Breast Cancer and Weight Loss study was different from all the others as it was about me, my goals and health. It played a pivotal part in my cancer recovery," she says. "I gained physical strength and endurance which gave me confidence in myself to reach my goals. I looked forward to the calls with my coach; she was a ray of sunshine to me. I don't think I would have reached my health goals had I not participated in this study."
But sometimes exercise can feel harder than chemotherapy. Some women have negative feelings about their ability to exercise, especially after breast cancer treatment.
The PHIT trial is a series of exercise intervention studies that aims to address how a person feels (their affective response) during exercise. An exercise prescription called AFFECT-Rx has been shown to reduce feelings of displeasure and increase participation in exercise over time among the general population, but hasn't been tested among people who have undergone breast cancer treatment. The PHIT trial will engage this special population to optimize AFFECT-Rx.
"The primary goal of the PHIT trial is to see if AFFECT-Rx promotes clinically meaningful increases in exercise," explains Courtney J. Stevens, PhD, clinical psychologist and Principal Investigator of the PHIT trial.
Recovering priorities
The Breast Cancer Recovery Trial tests a recovery program designed to help women who have completed treatment for breast cancer increase their activity level and productivity, and find ways to enjoy the activities that are important in their lives. Working with a coach, study participants have found ways to increase and enjoy activities involving work and career, home management, exercise and nutrition, parenting, socializing, leisure, stress management and more.
Recovering employment
A research team co-led by cancer population scientist Kathleen Lyons, ScD, and neuro-psychologist Jonathan Lichtenstein, PsyD, in partnership with the Comprehensive Best Program are enacting a community-engaged research program to optimize employment options. Engaging directly with cancer survivors and employers in rural areas, the team is developing interventions and programs that can help cancer survivors thrive at work, and help employers support their workers who are undergoing cancer treatment.
Part of the science
Cancer is a shock. Long-term side effects from treatment can be profound. Sometimes being part of the science can not only help with recovery, but also unlock new discoveries. "We wouldn't be where we are today if others hadn't been part of studies," says Visser-Lynch who remains open new clinical trials that may come her way. "If joining these studies can also help future patients make more informed decisions because there is research backing the choices, then it's worth it to me."
Participation in clinical trials is also critical in gathering the data that leads insurance companies to cover interventions such as weight loss and exercise programs as a standard part of cancer treatment.
To learn more about clinical trials or find out if you are eligible to join a study, talk with your cancer doctor, contact our Research Nurses at Cancer.Research.Nurse@hitchcock.org or explore our website.
Support in recovery
NCCC offers a variety of regular programs designed to help women going through and recovering from breast cancer treatment. From BeFriend, a one-on-one peer matching program, to group support options, to access to a certified mastectomy fitter to Pam's Class, an exercise class designed for women with cancer, those in recovery have options to help meet needs and wants as they transition into survivorship and long into the future.
You're invited
Also happening is NCCC's annual Breast Health Education event. These events give women an opportunity to hear from and engage with a range of experts on various breast cancer-related topics including screening, prevention, science and research, recovery and survivorship. This year's event will be a four-part series held virtually via Zoom, Wednesday evenings through October. For more information or to register for the link to this free event, please visit D-H Events.