By

Heather Ann Martin, RMA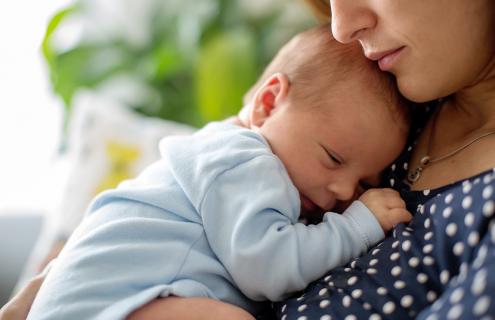 During the COVID-19 pandemic, new mothers are more isolated than ever without the hands-on support of family and friends. Add the lack of sleep that accompanies feeding and caring for newborns—along with natural postpartum hormonal imbalances—and you have the perfect recipe for increased anxiety and depression.
Postpartum anxiety, depression and suicide risk are always a concern for new mothers, but the pandemic has increased their likelihood. Mothers are screened in the hospital after birth and again at their six-to-eight week postpartum OB/GYN checkup. But there's a big gap between delivery and seeing their provider, and many changes can happen.
Eleven years ago, my sister died by suicide because of postpartum psychosis. She had no history of mental health issues and her baby, her first, was only three weeks old. As a result, suicide prevention is a passion project of mine and I serve as an ambassador for 2020 Mom, and regularly participate in the National Alliance on Mental Illness New Hampshire (NAMI NH) Annual Conference.
Small changes, impactful results
Concerned about some mothers presenting with flat affects during newborn checkups, I approached my team about integrating routine postpartum screenings. Erik Shessler, MD, associate medical director, General Pediatrics, and Rebecca Murphy, MD, were so supportive.
"This initiative has been critical to improving patient care, and was completely inspired and driven by Heather," Shessler says. "It demonstrates the remarkable achievements that can result from dedicated staff engagement."
In January, Dartmouth-Hitchcock (D-H) Manchester successfully launched its new postpartum screening practice for mothers of newborns using the Edinburgh Postnatal Depression Scale at the two-week, two-month, four-month and six-month newborn visits. It enhances how we care for babies because we're genuinely caring for their mothers.
At the beginning of each visit, mothers confidentially complete the screening questionnaire on a secure tablet for their baby's pediatrician to review. If the screening results positive for postpartum depression, their pediatrician starts a conversation asking if the mother has contacted her OB/GYN or primary care provider, and whether she has a mental health provider. Sometimes they're already receiving care, but if not, we refer them to a local mental health provider.
D-H Manchester often connects mothers with a specific Mental Health Center of Greater Manchester counselor who specializes in postpartum depression. We also share a list of providers located from Nashua to Rochester. In some cases, we'll contact the mother's primary care provider or OB/GYN on her behalf. If a case is critical, the Mental Health Center of Greater Manchester's Mobile Crisis Response Team can help.
Our pediatricians note the need to check-in with mothers on their children's medical records. The nurses and I also follow-up with phone calls two weeks after pediatric appointments. The mothers are grateful for the calls and heartened to know someone cares about their well-being. Before COVID-19, we typically made one call every other week. Since March, we make calls two or three times weekly. There has been a significant increase in positive screens due to COVID-19, and it's especially important to identify and help the mothers who are struggling.
For online postpartum depression resources, visit www.2020mom.org and Postpartum Support International at www.postpartum.net.