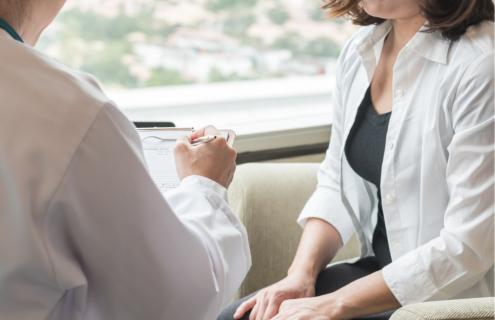 Once the most common type of cancer in women in the United States, invasive cervical cancer rates dropped 54 percent between 1973 and 2007, according to the American Cancer Society. That decline is due in large part to the establishment of regular Pap smears for women as a part of standard health care protocol, employing a simple procedure that collects cells from the outside of the cervix for analysis.
"Cervical cancer rates go down with age," says Ashish C. Chaudhari, MD, an obstetrician/gynecologist at Dartmouth-Hitchcock (D-H) Concord. "The cervix, which is the lowermost part of the uterus, routinely sloughs off cells. As women age, the cervix becomes less 'sticky,' so it's harder for bad, cancerous cells to collect. Of course, women over 65 should still see their gynecologist to tend to their breast, vaginal and sexual health."
While the advent of Pap smears has been a game-changer for women's health, it remains critical that women take steps to prevent and know the signs of cervical cancer. New Hampshire residents have convenient access to world-class cancer prevention and care through Dartmouth's and D-H's Norris Cotton Cancer Center, with a dedicated Gynecologic Oncology Program.
Chaudhari recommends the following steps for maintaining cervical health throughout a woman's lifespan.
Get the HPV vaccine: The human papillomavirus (HPV) is the leading cause of cervical cancer. In 2006, a HPV vaccine was introduced, and cervical cancer rates have declined steadily since. The American Cancer Society reports that pre-cancers due to HPV fell from 55.2 percent to 33.3 percent in vaccinated women between 2008 and 2014. HPV is sexually transmitted and the American Academy of Pediatrics recommends that females and males receive the HPV vaccine between the ages of 11 and 12, before they become sexually active.
Have regular Pap smears: The U.S. Preventative Task Force recommends that women 21 to 29 years old get a Pap smear every three years, and women 30 to 65 years old every five years.
Don't smoke: Tobacco use is connected to myriad health issues, and cervical cancer risk is no exception. Smoking makes the cervix stickier, which can lead to cancerous cells building up on the cervix, Chaudhari said.
Learn more about cervical cancer and how to protect yourself.
About Dartmouth-Hitchcock Health
Dartmouth-Hitchcock Health (D-HH), New Hampshire's only academic health system and the state's largest private employer, serves a population of 1.9 million across northern New England. D-HH provides access to more than 2,000 providers in almost every area of medicine, delivering care at its flagship hospital, Dartmouth-Hitchcock Medical Center (DHMC) in Lebanon, NH. DHMC was named again in 2020 as the #1 hospital in New Hampshire by U.S. News & World Report, and recognized for high performance in 9 clinical specialties and procedures. Dartmouth-Hitchcock Health includes the Norris Cotton Cancer Center, one of only 51 NCI-designated Comprehensive Cancer Centers in the nation; Children's Hospital at Dartmouth-Hitchcock, the state's only children's hospital; member hospitals in Lebanon, Keene, and New London, NH, and Windsor, VT, and Visiting Nurse and Hospice for Vermont and New Hampshire; and 24 Dartmouth-Hitchcock clinics that provide ambulatory services across New Hampshire and Vermont. The D-HH system trains nearly 400 residents and fellows annually, and performs world-class research, in partnership with the Geisel School of Medicine at Dartmouth and the White River Junction VA Medical Center in White River Junction, VT.