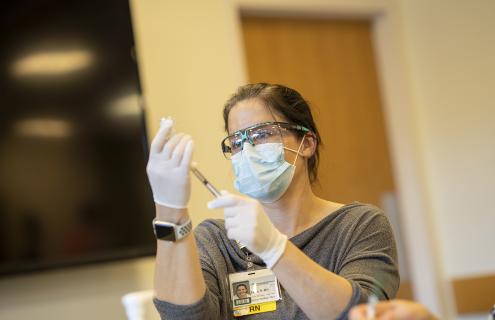 In mid-August, the U.S. Food and Drug Administration (FDA) approved the use of a third dose of the Pfizer and Moderna COVID-19 vaccines for immunocompromised people. However, a third dose for those who received the Johnson & Johnson one-dose COVID-19 vaccine has not been approved at this time.
The third dose of the Pfizer and Moderna vaccines must be given at least 28 days after the first two doses.
"This is different than the booster that is being discussed for the general population," says Michael S. Calderwood, MD, chief quality officer at Dartmouth-Hitchcock Medical Center. "We have data showing that a third dose can boost important antibodies in this population."
A third dose is recommended for those who have:
Been receiving active cancer treatment for tumors or cancers of the blood.

Received an organ transplant and are taking medicine to suppress the immune system.

Received a stem-cell transplant within the last 2 years or are taking medicine to suppress the immune system.

Moderate or severe primary immunodeficiency (such as DiGeorge syndrome, Wiskott-Aldrich syndrome).

Advanced or untreated HIV infection.

Active treatment with high-dose corticosteroids or other drugs that may suppress one's immune response.
If you are a Dartmouth-Hitchcock Health patient with an established primary care provider (PCP) or a specialty care doctor, and you meet any of the criteria above, you can contact your provider's office to request a third dose. You will be contacted to schedule a vaccination appointment, generally within five business days.