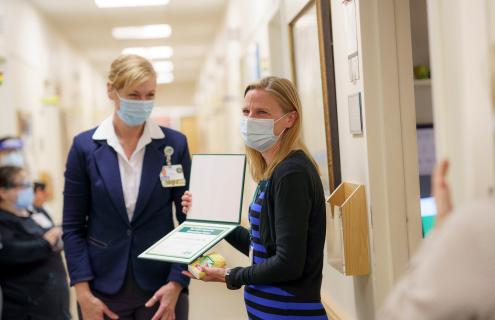 On a cold day in late January, Chief Nursing Officer Karen F. Clements, RN, FACHE, and a group of nurse leaders arrived at the 4L Gastroenterology and Hepatology Clinic at Dartmouth-Hitchcock Medical Center (DHMC) in Lebanon, New Hampshire. Clinical Nurse Supervisor Tracey E. Peterson, BSN, RN, poked her head out of her office to see what was happening when Clements announced, "Tracey Peterson, you have won The DAISY Award for Extraordinary Nurses!"
After working as a nurse at Dartmouth-Hitchcock for close to 10 years, Peterson has developed strong relationships with many of her patients who live with diseases and disorders such as Crohn's disease or inflammatory bowel disease (IBD). In a heartfelt nomination letter below, a patient's daughter, Jenny, shared the difference Peterson made at the end of her dad's life.
My dad had Crohn's Disease, and when his health began to deteriorate, I moved in to help him manage what we thought was the beginning of a Crohn's flare with obstruction.
I had been watching him decline and could feel that something bad was going on. I felt like he needed to be hospitalized, but he was less inclined to think so. As a stoic Vermonter, getting my dad to go to the hospital was an almost impossible task. He had been going to the Gastrointestinal Clinic at DHMC since 1983 or 1984 but would rarely go to the Emergency Department (ED). He had an irrigation kit and would self-irrigate at home to avoid it.
I knew getting my dad to the hospital was going to be my responsibility because I had promised my siblings I would be there when the time came. I also knew he wasn't going to go on my say-so alone. I needed help from someone he trusted, and I knew he trusted Tracey. One day, close to the time I knew she would be calling to check-in, I encouraged my dad to take a bath. In hushed tones, I told Tracey how worried I was and just how sick he had become. After hearing this, Tracey advised that I bring him into the ED. After the call, I told my dad that Tracey said we needed to go to the ED. He grumbled but agreed to go because Tracey said.
We came in on a Friday, and a few days later, my dad developed sepsis, and my siblings and I removed life support. He had adenocarcinoma [a cancer that lines your organs], not Crohn's, and died of septic shock preceded by metastatic cancer. Without the strong patient-provider relationship that my dad had with Tracey, it is likely he would have continued to stay home. I am forever grateful that my dad trusted Tracey with his life and that over the years, she developed such a strong, trusting relationship with him. It meant he did not have to suffer for the last 48 to 72 hours of his life.
About the decision to become a nurse, Peterson shared, "I have always enjoyed helping people but what truly opened my eyes to nursing was watching my mother work as a home health aide in hospice. I was able to see the effect she had on her clients and their families. It was amazing and inspiring. My favorite part of my job is helping patients who are struggling, whether it be with a new diagnosis, medication decision making, or a flare of their disease. The impact you can make on a patient, parent, or family member who just needs a shoulder to lean on or a listening ear to bounce ideas off of, is phenomenal."
About The DAISY Award
The DAISY Award is an international program that celebrates the skillful, compassionate care nurses provide every day. Members of the nursing professional development and recognition council review DAISY Award nominations and select winners. 
Dartmouth-Hitchcock is proud to be a DAISY Award Hospital partner since 2011. The DAISY Foundation was established by the family of J. Patrick Barnes after he died from complications of the auto-immune disease Idiopathic Thrombocytopenia Purpura (ITP) in 1999. During Pat's hospitalization, the family deeply appreciated the care and compassion shown by the nurses. When Pat died, the family felt compelled to say "thank you" to nurses in a very public way, and they established The DAISY Award in his honor.
Anyone can say thank you to an extraordinary Dartmouth-Hitchcock nurse by nominating them for The DAISY Award.