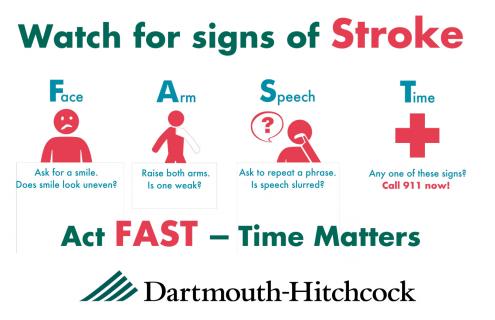 Did you know that one in four adults will suffer a stroke in their lifetime? According to the American Heart Association and American Stroke Association, stroke is the fifth leading cause of death and a leading cause of adult disability in the United States. On average, someone in the U.S. suffers a stroke every 40 seconds, and nearly 795,000 people suffer a new or recurrent stroke each year.
As part of National Stroke Awareness Month, the Dartmouth-Hitchcock Stroke Center encourages everyone to know the signs of stroke: using the acronym F.A.S.T. (Face, Arms, Speech, Time) helps you to remember and quickly respond to the signs of a stroke:
Abnormal or slurred speech.
Comprehension difficulties.
Confusion, trouble speaking or understanding.
Drooling or difficulty eating or swallowing.
Numbness or weakness of the face, arm or leg, especially on one side of the body.
Severe headache with no known cause.
Trouble seeing in one or both eyes.
Trouble walking, dizziness, loss of balance or coordination.
The Dartmouth-Hitchcock Stroke Center is part of the New England Comprehensive Stroke Center Collaborative. The goal of the collaborative is to ensure that patients throughout the region who are experiencing a stroke will receive immediate care.
Learn more about the Dartmouth-Hitchcock Stroke Center.