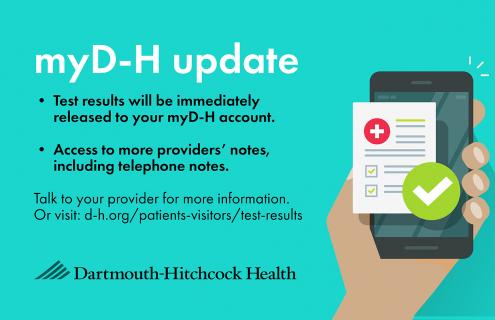 Your results are in!
We understand how important your health information is to you and your family. Which is why you will now see your test results your myD-H account as soon as they are final. When we say test results, we mean, for example, bloodwork you have had drawn recently, x-rays, ultrasounds or MRIs, to name a few.  As we  share these test results with you in myD-H when they are available, there may be times that you will see a test result before the provider who ordered it. Our providers look at every result, and a member of your care team will contact you with any concerning results.
We understand you may want to look at your test results immediately. Please note, it can be hard to understand some test results, or they may appear to contain a serious finding. We urge you not to assume any diagnosis until you talk with your provider. Your provider will contact you within 2-3 days, or sooner. You can also plan to discuss your test results at your next appointment.
If you decide to review your results before your provider does, please keep the following in mind:
Results that say "Negative" or "Unremarkable," usually means the same as "Normal."

Results with an "H" mean "high" or "L" mean "low," indicating "outside of normal range." Routine tests with mild abnormalities are often of no concern.

Some results may just be confusing. Don't worry. We will reach out to you to review them.

If you see a result with a serious finding, like "cancer" or "fracture," your provider will be contacting your quickly to discuss what this means.  
Your provider notes are ready too!
Just as test results are important, your other health information is as well, so whether you are in the hospital or visit one of our provider practices, you will now also have immediate access to more providers' notes through myD-H.
You will receive fewer notifications
To reduce the number of notifications you receive, we have turned off email and text reminders when results are available and notes from the visit are signed by your provider. You will receive a notification to view your results, however, when your provider adds a results comment.
Learning  about these exciting changes by logging into your myD-H account. Don't have an account?  Visit www.myD-H.org for more information and creating an account.