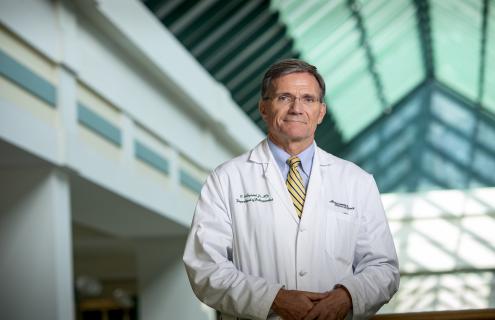 I have deepest gratitude for those who have come before me and served as my role models and mentors, and I am proud to have had the opportunity to teach and mentor so many wonderful young people who have in turn become leaders in our profession.
Vincent D. Pellegrini, Jr., MD, FAOA
Dartmouth Health orthopaedic surgeon Vincent D. Pellegrini, Jr., MD, FAOA, was recently recognized by the American Orthopaedic Association (AOA) as a Pillar of the Orthopaedic Profession. The AOA honors exemplary orthopaedic surgeons, past and present, as Pillars of the orthopaedic specialty.
Individuals recognized as Pillars have served as clinicians, educators, and researchers, providing essential support to others in the orthopaedic community. Their commitment has inspired peers, partners, fellows, and residents to emulate their integrity, excellence, and advancement of the profession.
Pellegrini received his undergraduate and medical degrees from Dartmouth and completed an internship and residency in general surgery at Hartford Hospital in Connecticut followed by an orthopaedic residency and fellowship in surgery of the hand at the University of Rochester in New York.
"I am honored to be recognized as a Pillar by the AOA, and humbled to be joining a distinguished group of colleagues," said Pellegrini. "I have deepest gratitude for those who have come before me and served as my role models and mentors, and I am proud to have had the opportunity to teach and mentor so many wonderful young people who have in turn become leaders in our profession." He noted that the recognition was particularly meaningful and gratifying because more than three-quarters of the supporters were prior medical students, residents, and junior faculty from four different institutions where he had served.
Since 2019, Pellegrini has served as Professor and Vice Chair of Education and Research Affairs in the Department of Orthopaedics at Dartmouth Health's Dartmouth Hitchcock Medical Center in Lebanon, New Hampshire, and as Professor of Orthopaedics and of The Dartmouth Institute for Health Policy and Clinical Practice at the Geisel School of Medicine at Dartmouth. Prior to joining Dartmouth Health, Pellegrini served as professor and department chair of orthopaedics for 27 years at Penn State Hershey Medical Center, the University of Maryland School of Medicine, and the Medical University of South Carolina, where he also served as Associate Dean for Medical Education and Adjunct Professor of Bioengineering at Clemson University.
Pellegrini currently serves as an examiner for the American Board of Orthopaedic Surgery and chair of the faculty council at Geisel School of Medicine. His greatest professional passion is for resident and medical student education, and he has been responsible for the education of more than 100 orthopaedic residents and 20 resident research fellows. He is an avid mentor and an active supporter of the AOA and the missions of academic medicine
Pellegrini's clinical interests include arthritis surgery, including total hip and knee arthroplasty and surgery of the hand, and his research interests include basal joint arthritis of the thumb, venous thromboembolism complicating total joint arthroplasty, heterotopic ossification, and the biology of fracture healing. His research has been funded by the Department of Defense, the US Army, and PCORI, and has resulted in over two hundred peer reviewed publications and the Charnley and Stinchfield Awards of the Hip Society, the Coventry Award of the Knee Society, and the Nicolas Andry Award of the Association of Bone and Joint Surgeons. He was an AOA North American Travelling Fellow in 1984-85 and the ASSH Sterling Bunnell Traveling Fellow in 1991-92.
Pellegrini has held leadership roles as President of the American Orthopaedic Association, The Hip Society, the Maryland Orthopaedic Association, the Medical Staff of the University of Maryland Medical Center, and as Chair of the Council of Faculty and Academic Societies of the AAMC and a member of the AAMC Board of Directors. He served as Deputy Editor of The Journal of Bone and Joint Surgery and a member of the ACGME Residency Review Committee in Orthopaedic Surgery.
About Dartmouth Health
Dartmouth Health, New Hampshire's only academic health system and the state's largest private employer, serves patients across northern New England. Dartmouth Health provides access to more than 2,000 providers in almost every area of medicine, delivering care at its flagship hospital, Dartmouth Hitchcock Medical Center (DHMC) in Lebanon, NH, as well as across its wide network of hospitals, clinics and care facilities. DHMC is consistently named the #1 hospital in New Hampshire by U.S. News & World Report, and recognized for high performance in numerous clinical specialties and procedures. Dartmouth Health includes Dartmouth Cancer Center, one of only 54 National Cancer Institute-designated Comprehensive Cancer Centers in the nation, and the only such center in northern New England; Dartmouth Health Children's, which includes Children's Hospital at Dartmouth Hitchcock Medical Center, the state's only children's hospital, and multiple clinic locations around the region; member hospitals in Lebanon, Keene and New London, NH, and Bennington and Windsor, VT; Visiting Nurse and Hospice for Vermont and New Hampshire; and more than 24 clinics that provide ambulatory services across New Hampshire and Vermont. Through its historical partnership with Dartmouth and the Geisel School of Medicine, Dartmouth Health trains nearly 400 medical residents and fellows annually, and performs cutting-edge research and clinical trials recognized across the globe with Geisel and the White River Junction VA Medical Center in White River Junction, VT. Dartmouth Health and its more than 13,000 employees are deeply committed to serving the healthcare needs of everyone in our communities, and to providing each of our patients with exceptional, personal care.
About the Geisel School of Medicine at Dartmouth
The Geisel School of Medicine at Dartmouth, founded in 1797, strives to improve the lives of the communities we serve through excellence in learning, discovery, and healing. The nation's fourth-oldest medical school, the Geisel School of Medicine has been home to many firsts in medical education, research and practice, including the discovery of the mechanism for how light resets biological clocks, creating the first multispecialty intensive care unit, the first comprehensive examination of U.S. health care cost variations (The Dartmouth Atlas), and the first Center for Health Care Delivery Science, which launched in 2010. As one of America's top medical schools, Dartmouth's Geisel School of Medicine is committed to training new generations of physician leaders who will help solve our most vexing challenges in health care.