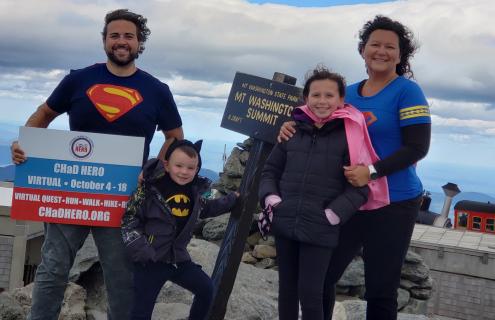 The reimagined 2020 CHaD HERO Virtual begins Sunday, October 4, as superheroes around New England complete their fundraising missions for Children's Hospital at Dartmouth-Hitchcock (CHaD).  Launch day kicks off 15 days of celebrations and virtual activities in honor of the 15th annual CHaD HERO, bringing us together while we're apart to support CHaD programs and 95,000 CHaD patients.
There are several exciting elements of this year's event.
HERO Events:

Between Oct. 4-18, HERO participants can complete a virtual mission of their choice, including classic HERO events like the half-marathon, 5K run or walk, hike, or bike ride.  They can also design their own course – hiking Mount Washington, biking across the Kancamagus Highway, or enjoying a sunrise run along the seacoast beaches.  HEROES are also invited to create their own activity this year.  It could be a step goal, dancing or gaming marathons, read-a-thon, baking binge, CrossFit, or another showcase of a HERO's unique talents and passions.

Kid HERO Crew:

Inspiring this year's HERO participants is the Kid HERO Crew..  This group of kids and their families, many of whom are participating in their own HERO challenge, have been hosting social media takeovers and creating blog posts to share their stories.  They will also be touted during the virtual celebration on HERO Day, Sunday, Oct. 18, the original date of this year's HERO.

Costume Contest

: The Kid HERO Crew will be deciding the winners of our social media costume contest.  In partnership with Pete & Gerry's Organic Eggs, participants are encouraged to snap photos of themselves wearing costumes or superhero gear while they train and participate in their event.  Submissions are due by Oct. 16 on the CHaD HERO social media channels, and winners will be announced on HERO Day.

Super Raffles:

Since the beginning of September, participants have been treated to an amped up version of the HERO's Super Raffles.  There were multiple prizes awarded in September from Runner's Alley, Stateline Sports, Minus33 Merino Wool Clothing.  During HERO week, additional Super Raffles will be held featuring mega prize packs including a Samsung TV, new running shoes and gear, hotel getaways, attraction passes, and much more.  Every participant is entered into a Super Raffle drawing while those who raise at least $250 will have access to exclusive prize packs.  The top fundraiser and fundraising team will also be earning a HERO prize.

HERO Day:

On Oct. 18, HERO participants, sponsors, and Kid HERO Crew will be celebrated on CHaD HERO Day, an online gathering to recognize the HERO spirit.  Prizes will be awarded to top fundraisers and Super Raffle winners will be announced.

Participants can also engage with local businesses to benefit HERO fundraising.  The Woodstock Farmer's Market in Vermont is hosting its Harvest for Heroes round-up campaign through Oct. 18.  When customers round up their purchase to the nearest dollar, Woodstock Farmer's Market will donate the difference to CHaD, matching a campaign that raised over ten thousand dollars last year.  Boloco in Hanover is also hosting HERO benefit day Oct. 7 with proceeds from sales going to the event.
A variety of sponsors have also stepped up to support the event once again, despite the pandemic.  Jack & Dorothy Byrne Foundation is providing matching funds to give overall fundraising a power boost.  The Couch Family Foundation, Kitchel-McLaughlin Family Fund, Hypertherm HOPE Foundation, Bank of America, Oliver Mechanical Inc. as the half marathon partner, King Arthur Baking, and Children's Fund of the Upper Valley/Norwich Partners of Florida have all returned to provide their generous support.  New partners include Montagne Communications and the 5K race partner, SLC Group Holdings, LLC.  Additional support is being provided by White Mountains Insurance Group, The BaySon Company, Global Forest Partners LP, Geokon, and Eastern Propane & Oil.
Proceeds from the event support several programs at CHaD, and the need is just as important as ever because of COVID-19.  These programs fund childhood diabetes services, child abuse victims, chronic illnesses, complex care support, and countless others.  To support the CHaD HERO, visit CHaDHERO.org.
About CHaD
As New Hampshire's only full-service, comprehensive children's hospital, the Children's Hospital at Dartmouth‐Hitchcock (CHaD) is committed to providing outstanding compassionate care for children and their families. Their physician expertise provides primary, specialty, and tertiary care to the children of New Hampshire, Vermont, and beyond. CHaD offers inpatient (hospital care) and outpatient (same day care) services at Dartmouth‐Hitchcock Medical Center in Lebanon, NH. Outpatient and same-day surgery services are available at Dartmouth‐Hitchcock Manchester. Primary care is available at Dartmouth‐Hitchcock facilities in Bedford, Concord, Keene, Lebanon, Manchester, and Nashua, NH, and Bennington, VT. For more information about CHaD, please visit childrens.dartmouth-health.org or contact us at 603-650‐KIDS or chad.community.relations@hitchcock.org.