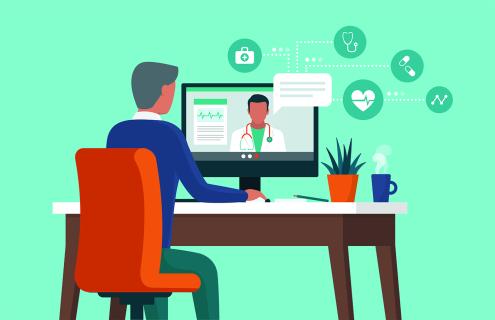 The Virtual Urgent Care Program provides broader access to care, as well as lower-cost care.
James B. Ebert, Jr., MD, FACEP
It was nearly 9 pm on a Monday when the 12-year-old daughter of Tim Bishop, director, Engineering Services, Community Group Practice, Dartmouth-Hitchcock (D-H), discovered a tick on her shoulder that had likely attached six hours earlier. After removing the tick with tweezers, Bishop accessed Dartmouth-Hitchcock Health (D-HH) Virtual Urgent Care. 
Within 15 minutes of registering, he and Brigid had a video chat with a board certified physician in the comfort of their living room. After reviewing a photo of the tick bite, the provider recommended a prescription for a one-dose antibiotic, which was ready at a local 24-hour pharmacy within 30 minutes. 
"The process was convenient and user-friendly. It brought me peace of mind to receive trusted medical advice without waiting until the next day—and at a fraction of the cost of an in-person visit," Bishop says. "I highly recommend D-HH Virtual Urgent Care and plan on using it again."
Easy, affordable access to expert care
D-HH Virtual Urgent Care is powered by the technology and expertise of MDLIVE. It offers around-the-clock access to board-certified physicians with years of emergency department (ED), internal medicine, family medicine and pediatric experience. D-HH Virtual Urgent Care is staffed during the day by D-HH ED physicians 7 am to 7 pm, Monday through Friday. During weekends and overnight hours, MDLIVE physicians deliver care to patients across the U.S. and its territories, and provide D-H backup services during the week. Telephone and video chat options are also available.     
The platform is designed to treat non-emergency conditions, including rashes, colds and flu, bronchitis, allergies and sinus infections. Patients are asked a variety of triage questions to determine whether they should proceed. For example, anyone with chest pains will be referred to an ED.
"The triage feature respects everyone's time and can tell patients if virtual care might not be a good fit," explains Matthew B. Mackwood, MD, MPH, D-H Heater Road Family Medicine and D-HH Virtual Urgent Care Program. "If the initial screening recommends virtual care, it lends itself to high quality conversations."  
D-HH Urgent Virtual Care was first launched in January 2021 to D-HH employees; in March the program expanded to all patients at $59 per visit. Comparatively, ED visits average $600, urgent care visits typically cost $125-$150 and retail clinics generally charge $80.
Improving community health
Post-visit data shows 21% of patients would have delayed care without this option, and 90% of patients report an excellent overall experience. James B. Ebert, Jr., MD, FACEP, medical director, D-HH Virtual Urgent Care Program, says the average visit lasts eight to 15 minutes—saving 67% of patients one to two hours of time.
D-HH Virtual Care is also unique for its connectivity to patients' electronic health records. Notes are uploaded to myD-H (patient portal) within 20 minutes. 
"This is an access point to efficiently manage your own time. This can be a game changer," Ebert shares. "The Virtual Urgent Care Program provides broader access to care, as well as lower-cost care."
D-HH Virtual Urgent Care is available through the D-HH web portal (with Express Registration available for employees on the D-H Health Plan), the D-HH Virtual Urgent Care Mobile App and by calling 1-833-599-0447. To open a myD-H account, request a code at myD-H.org. Click on the "create an account" button under the sign in to request an activation code.