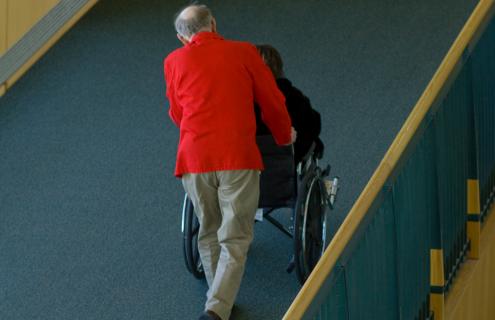 I knew how important these services were to patients and families. Somebody needed to be there, and the pandemic wasn't going to deter me.
Andy Williams, D-H volunteer
When stay-at-home restrictions emptied the halls of Dartmouth-Hitchcock Medical Center (DHMC) at the start of the pandemic in March 2020, volunteers were left wondering how they could continue to help and when they might be able to return. Many of Dartmouth-Hitchcock's (D-H's) volunteers joined the community efforts to sew masks or repair hospital gowns. But for those whose daily schedules involved volunteer service, the pandemic left an empty space in their routines—and their desire to help others.
"Volunteerism, especially among the retired population, can help to give a sense of purpose and meaning in continued contribution to the community. During the pandemic, so much of that was taken away," says Kristen Johnson, supervisor, Volunteer & Guest Services, Jack Byrne Center for Palliative & Hospice Care (Jack Byrne Center). When they couldn't support patients and employees directly, volunteers turned to each other for support. Volunteer Services facilitated virtual meetings to connect and stay in touch with one another while waiting to find out when they could return.
After the first couple of months, some volunteers were asked to come back to the hospital in a few specific roles. With visitor restrictions in place, patients needed help getting to their appointments, so the first volunteers to return were patient escorts. Others to follow were Gift Shop attendants and vigil volunteers—volunteers who sit with end-of-life patients when their family or friends are unable to.
And a new volunteer role was created—virtual visit volunteers. These volunteers help patients connect with family at home, assisting them with using an IPad to "virtually visit" with their loved ones. Volunteers providing this assistance, freed up valuable time for medical staff to spend with patients.
When volunteers returned, they had a re-orientation and training that included all of the updated safety information brought on by the pandemic. Like other staff working directly with patients, they were required to wear appropriate personal protective equipment, including masks, goggles and face shields, depending on where they were volunteering.
Gretchen Maynard and Andy Williams, who were among the first to return, said they felt comfortable volunteering during this time. "I always felt safe. They did a good job of making sure everyone was trained and followed protocols," says Maynard.
Williams agrees, "I couldn't feel more comfortable with the way they were managing all the protective practices. I felt safer going to DHMC than going to the grocery store."
Maynard has volunteered at DHMC for 12 years. She helped at the vaccinations clinics, as a vigil volunteer and in the Gift Shop. "It was important work we were doing, and the fact that the organization considered us 'critical to service' was meaningful."
"Even working in the Gift Shop was important," says Maynard. "I watched employees purchase goodies for their colleagues who were having a hard day. It was touching to see them support each other like that. Then there was a patient who asked his nurse to wheel him down so that he could buy boxes of chocolates for the nurses taking care of him."
Williams, who had just started as a palliative care volunteer 3 months before the pandemic, returned as a virtual visit volunteer and a vigil volunteer at the Jack Byrne Center. "You shouldn't go through those circumstances alone," he says.
Williams was inspired to be a volunteer as a way to give back after his wife, Deb, received palliative and cancer care for 5 years at D-H. "I knew how important these services were to patients and families. Somebody needed to be there, and the pandemic wasn't going to deter me."
Volunteer Services has been able to bring back more services: volunteer bakers and veteran-to-veteran support volunteers at the Jack Byrne Center; patient support corps, Child Life and a new inpatient support volunteer role at DHMC; and pet therapy and musicians at both locations.
But at this time, opportunities for volunteer service are still limited. The creative resourcefulness required during the pandemic eliminated some volunteer roles, such as serving infusion lunches at Dartmouth's and Dartmouth-Hitchcock's Norris Cotton Cancer Center. However, it's also led to the development of new roles and more interest in volunteer service. "We have been honored to receive a high volume of volunteer candidates. It speaks to the connection community members have to the hospital," says Johnson.
"It's difficult to measure volunteers by numbers—how many volunteers are serving or how many hours they give. It's more about the added value they bring to the organization and the connection they have with the patients. How do you measure the smell of chocolate chip cookies as you enter the Jack Byrne Center, or the impact a therapy dog has when entering a room? It's the emotional connection and comfort that volunteers bring that matter most," says Marcy Sanborn, supervisor, Volunteer & Guest Services, DHMC.