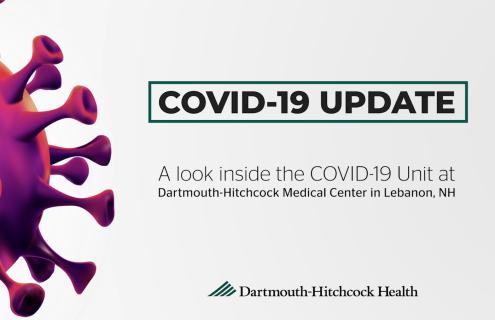 Unvaccinated patients continue to overwhelm intensive care units (ICUs) across the country, fueling frustration among frontline workers. Locally, Dartmouth-Hitchcock Medical Center (DHMC) staff are managing a preventable surge and pleading for the community to get vaccinated.
"We've got to wake up, America," said Edward J. Merrens, MD, chief clinical officer at Dartmouth-Hitchcock Health. "This is preventable, and all the work that we're doing here and all the care that we're doing, the vast majority of it is preventable. If people got vaccinated, not just for themselves, but for younger children that can't get vaccinated and immunocompromised people that may not be able to – this is really important. This is now at a point where it is a surge and a crisis that we can prevent for the vast majority of people."
Claremont, New Hampshire, resident Fred Rutherford is amplifying the pro-vaccination movement. As an unvaccinated patient, he knows firsthand the life-saving measures that were needed to save his life.
"A lot of people in the world today are not taking this serious," Rutherford shared from his bed in the ICU at DHMC. "I will do anything I can to be the voice of people that don't understand you've got to get vaccinated. You've got to get it done to protect each other."
About Dartmouth-Hitchcock Health
Dartmouth-Hitchcock Health (D-HH), New Hampshire's only academic health system and the state's largest private employer, serves a population of 1.9 million across northern New England. D-HH provides access to more than 2,000 providers in almost every area of medicine, delivering care at its flagship hospital, Dartmouth-Hitchcock Medical Center (DHMC) in Lebanon, NH. DHMC was named again in 2020 as the #1 hospital in New Hampshire by U.S. News & World Report, and recognized for high performance in 9 clinical specialties and procedures. Dartmouth-Hitchcock Health includes the Norris Cotton Cancer Center, one of only 51 NCI-designated Comprehensive Cancer Centers in the nation Children's Hospital at Dartmouth-Hitchcock, the state's only children's hospital; member hospitals in Lebanon, Keene, and New London, NH, and Windsor, VT, and Visiting Nurse and Hospice for Vermont and New Hampshire; and 24 Dartmouth-Hitchcock clinics that provide ambulatory services across New Hampshire and Vermont. The D-HH system trains nearly 400 residents and fellows annually, and performs world-class research, in partnership with the Geisel School of Medicine at Dartmouth and the White River Junction VA Medical Center in White River Junction, VT.