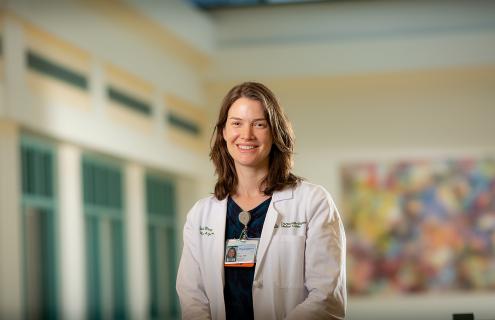 The effectiveness of the Pfizer and Moderna COVID-19 vaccines are very promising. Still, many individuals are still deciding whether to get immunized, among them, pregnant and breastfeeding women.
Julie Braga, MD, section chief, General Obstetrics and Gynecology at Dartmouth-Hitchcock, says that a pregnant or breastfeeding mother's choice to get vaccinated should be a personal decision based on conversations with her health care provider.
"It really is about balancing the potential benefits and risks of getting the vaccine," says Braga.
In making your decision, Braga offers the following:
The vaccine does reduce your chance of getting COVID-19. Both the Pfizer and Moderna vaccines have proven to be highly effective in clinical trials. Those clinical trials, however, do not include pregnant woman, so there is limited data on whether the vaccine is safe for pregnant or breastfeeding women. "Based on the technology for how the vaccine was created, there is no evidence to suggest it would be dangerous for pregnant or breastfeeding women or their babies," says Braga.

Research shows that if you are pregnant you are more likely to have complications and require intensive care if you were to get COVID-19. These risks increase if you also have diabetes, are obese or older in age.

Some individuals after getting the vaccine have had side effects including fatigue, muscle aches, headaches and fevers. Having a high temperature can be harmful to the fetus, so pregnant women who choose to have the vaccine and get a fever over 100.4 F should make sure they take acetaminophen.

If you work in health care, are a frontline worker or live in a community with high rates of COVID-19, you are at a higher risk of contracting the virus.

If you've had a severe allergic reaction to any other vaccine you should not be vaccinated.

Braga recommends that women who are breastfeeding get the vaccine. "There is no reason to think that this vaccine would be dangerous while lactating," says Braga. Women who receive the vaccine do not need to stop or pause breastfeeding after receiving the vaccine.
It is still not known how long the vaccine lasts or whether people can still spread the virus after receiving it, so anyone who receives one should continue to maintain physical distancing, practice safe hand hygiene and wear a mask.
"Getting the vaccine is a personal decision," says Braga. "Talk to your provider about what might be the best choice for your situation." For more information, view Braga's video discussing the benefits and risks of the COVID-19 vaccine for pregnant and breastfeeding women.