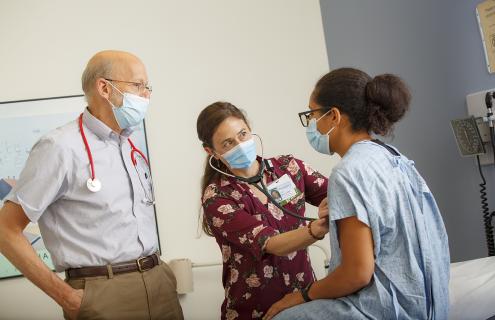 Much of what the PACS Clinic provides is affirmation and validation of patients' symptoms, letting them know it's not just in their heads.
Jeffrey Parsonnet, MD
It was early 2021 when Jeffrey Parsonnet, MD, a member of the Infectious Diseases Section at Dartmouth Hitchcock Medical Center (DHMC), recognized an increasing demand to evaluate and treat patients with post-acute COVID-19 syndrome (PACS). Most patients previously had mild cases of COVID-19 and recovered but then had persistent symptoms, including fatigue bordering on exhaustion, "brain fog," insomnia, racing heart, shortness of breath upon exertion, chronic pain, loss of taste or smell, and new anxiety and depression. Patients with PACS (also known as "long haul COVID") can experience one or a combination of these symptoms, but almost all struggle with fatigue.
Parsonnet volunteered to lead the Post-Acute COVID Syndrome (PACS) Clinic at DHMC, assisted by Christina F. Martin, MSN, APRN, Infectious Disease and International Health. The purpose of the clinic is primarily to help patients but also to conduct research into this syndrome. The team received a grant from the Susan & Richard Levy Health Care Delivery Incubator to assist in designing a care delivery model and do research on PACS.
It is not known why "long haul" patients seem to recover from the initial infection but then have persistent symptoms that negatively impact their quality of life. For example, Parsonnet says the COVID-19 virus can cause anxiety and depression that patients didn't experience before—and the reason why is still unknown. 
When the clinic opened in mid-April 2021, there was initial pent-up demand, with 160 patients referred to the clinic in its first 6 weeks. Parsonnet and Martin expected the need for a PACS clinic to then slow down as more people got vaccinated, but there has been a dramatic recent increase in referrals to the clinic.
"Today, the number of PACS Clinic patients being referred is at the highest level since May 2021—with approximately 70 seen in February and 110 in March," says Parsonnet. "The Post-Acute COVID Syndrome Clinic is here to stay."   
Patient-focused care
The PACS Clinic is the only clinic of its kind in the region and sees patients from New Hampshire and Vermont. Patients must be referred by their primary care provider (PCP), be 18 years of age or older, and be experiencing symptoms for at least 3 months after initial COVID-19 infection. More than half of the PACS Clinic patients are new to the Dartmouth Health system.
To date, the PACS Clinic has received 760 patient referrals, with approximately 400 seen or currently scheduled to be seen. While other PACS Clinics in the United States have extensive waitlists, the clinic at DHMC has been able to see patients within a few weeks of being referred.
Supported by test results and assessments made by PCPs, Parsonnet and Martin assess patients in-person and using telehealth. Most patients that are now being referred had a relatively mild case of COVID-19 that didn't require hospitalization and were vaccinated. Three-quarters of all patients are women, as has been seen at other PACS clinics around the country.
"It's unknown whether this is a function of biology or cultural factors. Women and men have different immune systems, which could be a contributing factor," says Parsonnet. "Women get autoimmune diseases more often and develop more antibodies to vaccines than men. COVID-19 seems to be an immunologic disease in some way."
For all patients, the most common symptoms are fatigue and brain fog. Brain fog can be severe enough to cause people to get lost driving in their own town; multitasking becomes difficult, word-finding a struggle, and short-term memory is impaired. Symptoms are often severe enough to cause significant disability, including inability to work.   
"Patients with long COVID-19 often have normal labs, scans of various kinds, and echocardiograms (tests using ultrasound to monitor heart function)—but they feel horrible, and this can be especially challenging. It's similar to chronic fatigue syndrome in that it causes a lot of emotional stress, along with physical symptoms," Parsonnet explains. "Much of what the PACS Clinic provides is affirmation and validation of patients' symptoms, letting them know it's not just in their heads."
The PACS Clinic also connects patients with referrals to specialists as needed, including Neurology, Pulmonology, Cardiology, Psychiatry and Rehabilitation Medicine (which includes occupational therapy for cognitive rehabilitation and physical therapy for fatigue management).
"What's evident is that this syndrome is NOT going away as the number of severe COVID-19 cases declines," Parsonnet reports. "The problem of long haul COVID is not getting better—it's getting worse."
For more information, visit Post-Acute COVID Syndrome Clinic or call 603-650-9484.