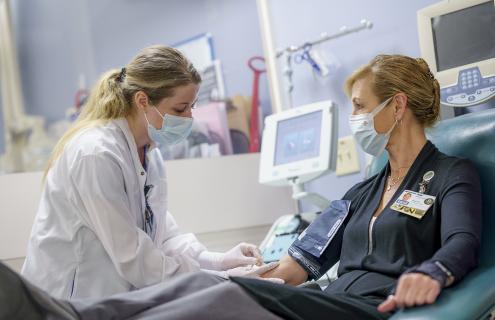 As the nation continues to face critical blood shortages, it's important to consider donating blood year-round. 
According to Dartmouth-Hitchcock Medical Center (DHMC) Blood Donor Relations Specialist Amber Grantham, about 38 percent of the United States population is eligible to donate, and of those eligible, less than 10 percent do.
"Without a sustainable source of blood, we end up in critical shortages as we had in January, over and over again," says Grantham. "We need donors to come in on a consistent basis to break this cycle."
Blood has a shelf-life. It can't be frozen and saved for later, and there is no artificial substitute. "A blood donation is only good for up to 42 days from when it's donated, and donors can only give blood every 56 days. The blood they donate expires before they can even donate again," says Grantham.
"A typical blood donation is approximately one pint. If there were a major accident sending multiple patients to DHMC, we could potentially go through 100 pints of blood for that one event—that's 100 donations," says Grantham. Meanwhile, the demand for blood continues daily. "A hip replacement can use up to 10 pints, a heart transplant, around 30. It all adds up," she says. Grantham explains that the best way to address this is to maintain a constant supply.
Blood donations made through the Blood Donor Program are used for patients at DHMC or are sent to other Dartmouth-Hitchcock Health member organizations. Giving blood through the program also supports the local community.
Many repeat donors give blood because they understand the importance first-hand, like frequent donor Miriam C. Dowling-Schmitt, MS, RN, CPPS, CPHQ, director of Quality Improvement and Patient Safety, Norris Cotton Cancer Center. "I got to see how the blood products I administered to my critically ill patients could completely change their course. I cared for these patients for days, weeks or months and watched them come back to life because of their transfusions."
"We want to stress to everyone that it's safe to come in and donate. Our technicians wear higher-level personal protective equipment (PPE), and since most appointments are scheduled, the waiting area is rarely crowded, allowing a safe distance for those waiting.
There are certain events that can disqualify donors from donating at all or for a certain period of time, such as tattoos or body piercings. But these requirements have recently been updated, allowing more opportunities for people to donate.
The most common reason that people don't donate? Fear of needles. Grantham says staff does their best to make the process as comfortable as possible. "We had an anxious donor, and I sat with her, held her hand, and chatted with her to help keep her distracted. When she was done, she immediately made her next appointment to donate. That's a huge win."
What's the donating experience like?
Donations take an average of 45 minutes. Shortly after checking in, a technician will take a donor's vitals, test their hemoglobin (a protein in red blood cells that carries oxygen) and ask a series of health questions, all steps designed to ensure that the donor is healthy to donate and that their blood is safe to give.
Once in the donation room, technicians complete the final set-up and begin the process, which lasts around 15-20 minutes. Technicians are always nearby if someone has questions or experiences any discomfort.
When the process is complete, technicians make sure donors feel well enough to sit and have a snack and drink in the "canteen" waiting area. They encourage donors, especially those who are unsure how their bodies may respond, to stick around, enjoy a treat and take advantage of the downtime. "People donate just for the Klondike bars and other special treats," says Grantham. When the patient feels okay to leave, they send them home with after-care instructions.
"When you donate blood, you are saving someone's life. It could be your family member's, your neighbor's or even your own. That's a good feeling," says Grantham.
To learn more about the donation process or to schedule a donation, visit the DHMC Blood Donor Program website.