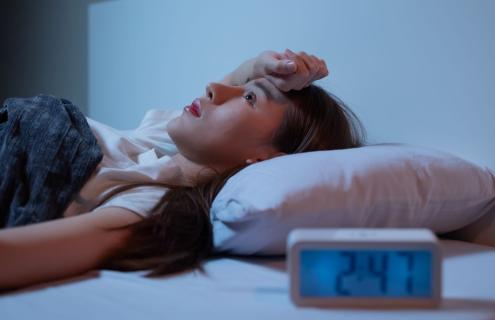 By committing the worries to paper, you are able to think a bit more objectively and gain perspective.
Stephen T. Cole, PhD
From the normal stressors of daily life, to the nonstop cycle of distressing world events over the last few years like the COVID-19 pandemic and war in Ukraine, few people are immune to worrying. And in the busy lives so many of us lead, rushing through the day from task to task, it's not uncommon to be flooded with worries when we finally lay our heads down to sleep at night—the time of day when it's most important to relax.
If worrying is impacting your ability to have restful sleep, you're not alone—and there are steps you can take to fix it. Simply writing your worries down can be highly effective. "By committing the worries to paper, you are able to think a bit more objectively and gain perspective," said Stephen T. Cole, PhD, a licensed psychologist with the Dartmouth-Hitchcock Employee Assistance Program.
Cole recommends designating a "worry session" to his patients. Here are four simple steps for implementing this helpful technique:
Pick a time in your day to set aside 15 minutes for your worry session. This should be about the same time each day for one week, e.g., right after dinner, but not just before bed. Each day at that time, set a timer for 15 minutes, sit down and write down a list of all the worries that have been on your mind lately, especially your top three, and any others that may be keeping you awake when you should be sleeping.

If this takes less than 15 minutes, then go back and add some details—what in particular are you concerned could happen? Consider assigning a probability estimate of this fear coming to pass (e.g. is there a 95 percent chance this could happen, a 50 percent chance, a 1 percent chance, etc.).

If you are not able to finish your worries list in 15 minutes, then stop and remind yourself that you'll be able to get back to it tomorrow. If you find yourself worrying at other times during your day, allow yourself to postpone your worrying until your next worry session.

Repeat this process the same way each day for a week. Many people find that by day two or three, they can reproduce their list fairly quickly.
"You may find that writing about your worries begins to desensitize you to them—they can lose some of their sting," Cole said. "You are also beginning to develop the skill of managing worry—setting some boundaries on worry. Finally, focusing on worries that are realistic, and thinking about an action step you can take, can alleviate your distress about them."
About Dartmouth-Hitchcock
DARTMOUTH-HITCHCOCK HEALTH (D-HH), New Hampshire's only academic health system and the state's largest private employer, serves a population of 1.9 million across Northern New England. D-H provides access to more than 2,400 providers in almost every area of medicine, delivering care at its flagship hospital, Dartmouth-Hitchcock Medical Center (DHMC) in Lebanon, NH. DHMC was named in 2019 as the #1 hospital in New Hampshire by U.S. News & World Report, and recognized for high performance in 13 clinical specialties and procedures. Dartmouth-Hitchcock Health also includes the Norris Cotton Cancer Center, one of only 51 NCI-designated Comprehensive Cancer Centers in the nation; the Children's Hospital at Dartmouth-Hitchcock, the state's only children's hospital; affiliated member hospitals in Lebanon, Keene, and New London, NH, and Windsor, VT, and Visiting Nurse and Hospice for Vermont and New Hampshire; and 24 Dartmouth-Hitchcock clinics that provide ambulatory services across New Hampshire and Vermont. The D-H system trains nearly 400 residents and fellows annually, and performs world-class research, in partnership with the Geisel School of Medicine at Dartmouth and the White River Junction VA Medical Center in White River Junction, VT.