In This Section
David's Kidney and Me
Photography by

Mark Washburn

August 15th, 2016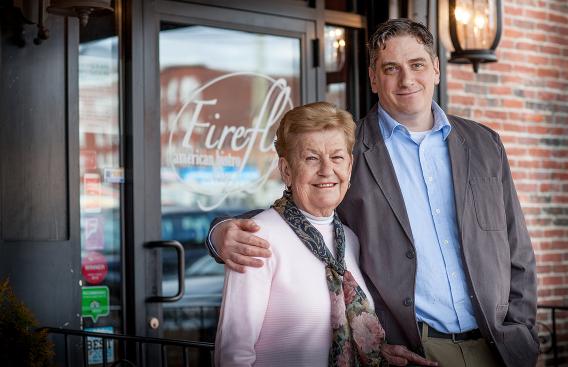 Just over 70 years old, Judith Becker shows no signs of slowing down. She talks quickly with a voice that conveys her energy. "I'm very active," she says. "I walk, I volunteer…." Then she adds, "I couldn't do those things when I was sick."
When Judith was in her late 50s, an autoimmune disease she had began to attack her kidneys. Otherwise healthy to that point in her life, the gradual loss of kidney function was making Judith feel increasingly sick, and she knew she was facing the possibility of lifelong dialysis.
A change in nephrologists five years ago brought welcome news. Judith was a good candidate for a kidney transplant. She was referred to the Dartmouth-Hitchcock Transplant Center, and Judith, her husband and three children went to an orientation and evaluation session there.
A Long and Challenging Process
The road to a kidney transplant is long and challenging. Some potential transplant patients walk away from the process at the start—overwhelmed by the complexity of the donor matching system and long wait times for compatible kidney donors.
According to the National Kidney Foundation (www.kidney.org) there are currently 100,791 people in the U.S. waiting for kidney transplants, and the median waiting time to receive a first kidney transplant is just over three and a half years. The need for donors has increased while donations from both living and deceased donors have decreased, and many people waiting for a donor kidney will never receive one. In 2014, 17,107 people in the U.S. had kidney transplants—two-thirds from deceased donors and one-third from living donors. In the same year, 4,761 people died while waiting for a kidney, and another 3,668 people became too sick to receive one.
The wait list and distribution process for kidneys is complex. The United Network for Organ Sharing (UNOS) is a private, non-profit organization that manages the U.S. organ transplant system under contract with the federal government. Distribution of kidneys from deceased donors is an intricate mix of geography, age and other factors like how long a person has been waiting and the compatibility of the immune systems of donor and recipient. Patients who are fortunate to have family members or friends who want to donate a kidney for them can eliminate the need to spend time on the waiting list, if the donor's kidney is a "good match"—compatible in blood type and other aspects of the immune system.
Finding a Compatible Donor
Judith Becker's children were interested in donating, but all three were incompatible because of their blood type. Judith is blood type O and her children, like her husband, are blood type A. So together with her son, David, Judith applied to the kidney paired donation program. This national exchange matches living donors to recipients by linking together incompatible donor and recipient pairs with one or more other incompatible pairs who then "swap" to get a compatible kidney.
Even in the exchange program, Judith's blood type created an obstacle to finding a match. With blood type O, Judith is only able to receive from another O blood type, resulting in both longer waiting times for deceased donor kidneys and difficulty in the identification of a swap through the paired donation program. "Since O donors can give to anyone, it doesn't leave many left over," Judith explains. On the wait list for 1.5 years, "I was working my way up very slowly on the deceased donor list, and not likely to get a live organ through the exchange program," she says.
Now approaching 70, Judith learned she might face yet another obstacle. In an appointment with Dr. Michael Chobanian, medical director for solid organ transplant surgery, he suggested that she needed to identify a compatible donor soon as her advancing age could become a barrier if she exceeded 75 years old. The good news, Chobanian told her, was that the D-H Transplantation Program had been working on another option for people like her: an ABO incompatible kidney transplant.
Offering ABO Incompatible Transplants to New England
For over two years, D-H had been working to offer an advanced new protocol that would enable patients like Judith to receive a transplant from a donor whose blood type and immune system did not match. Chris Simpkins, MD, was recruited from Johns Hopkins, one of a few transplant centers in the country offering this protocol, to develop the program at D-H.
As Simpkins explains, "It became evident early in the history of kidney transplantation that it is not possible to perform the procedure between people with incompatible blood groups, because they develop an aggressive antibody driven rejection process known as hyperacute rejection. The recipient's preformed, natural antibodies attack the transplanted kidney from an incompatible blood group donor and destroy it. This immune process is extremely rapid, and can take place before the surgeon's eyes in the operating room after blood flow is restored to the organ."
Antibodies are the part of the immune system tasked with recognizing and stopping "foreign" cells in the body, for example from a cold or infection. Antigens are the markers on those cells that communicate that they are foreign, and that cause the immune system to form antibodies against them.
In kidney transplants, the patient's antibodies see a transplanted kidney with incompatible blood group antigens as foreign, and attack the kidney to prevent it from "hurting" the patient. Simpkins explains, "They're called blood group antigens but they're actually on a large number of tissues, including the lining of the blood vessels in the transplanted kidney, which is where they are exposed to the recipient's antibody."
"What we've come to understand is that there are levels of anti-blood group antibodies at which it is safe to perform kidney transplantation. If we treat the patient with techniques that lower the recipient's antibody level down to that safe range, and keep it sustained there, then we can do the transplant procedure. That's the protocol that we're using here at Dartmouth-Hitchcock."
It took a couple of years to build the program, Simpkins says, and involved detailed coordination among the Transplant, Pathology, Transfusion Medicine and Blood Bank Programs, as well as the expertise of numerous specialists including Ms. Cathy Pratt, Dr. Alan Schned, Dr. Nancy Dunbar and Dr. Zbigniew (Ziggy) Szczepiorkowski, who is section chief of clinical pathology and director of the transfusion medicine service. 
"I can tell, I feel better already!"
Judith Becker met with Simpkins in March of 2014, and he described the blood work, testing and treatments involved in preparing her body to receive David's incompatible kidney, and in making sure she didn't reject it after surgery. "Dr. Simpkins was fantastic," Judith remembers. "He's down to earth, warm and informative. He made it an easy process to go through."
The reality is that the process is not easy, involving six or more weeks of tests and treatments before surgery, and intensive follow up and monitoring over the first year after surgery. Since her son, David, had been on the donor list for over a year, his health assessment was updated, and he also had extensive blood work and testing. "We began to move step by step," Judith says. "I didn't get my hopes up. I dealt with it all one thing at a time." In late spring, the date for her surgery was set—July 17, 2014.
"I was in panic the morning of surgery, not about my surgery but about my son," Judith reports. "He was thrilled that I would be able to get his kidney, and that we would no longer have to do an exchange to make that happen. But I worried about him undergoing surgery as a healthy 41 year-old, and giving up his kidney. What if something were to happen, in the surgery or later in his life?"
David's surgery was performed first, and then reported to Judith afterward. "He [the surgeon] let me know that David was okay, and that his kidney was healthy and viable." As a result, Judith was able to go into her surgery with Simpkins "feeling pretty good," she says. And her response to her new kidney was immediate. Waking in the recovery area, she told her husband, "I can tell, I feel better already!"
Judith's treatments continued after surgery to keep her antibodies at a low level. "About a week out from the transplant, it's not unusual to see the patients' antibodies increase dramatically and cause rejection, even though you didn't encounter that rejection in the operating room," says Simpkins
Ultimately, the patient's immune system begins to regulate how much antibody is made. In ABO incompatible transplants, another process called "accommodation" takes place. Simpkins explains, "The transplanted kidney begins to block the antibodies' ability to harm it… the kidney begins to protect itself."
Almost two years after her surgery, Judith is grateful to have her life back. "I can't say enough good things about Dartmouth-Hitchcock and the Transplant Program," she says. "For Dartmouth-Hitchcock to do this surgery was incredible for me as well as my family. They've created a new life for me, and I cannot be more grateful."
A Lifesaving Option 
This winter, Simpkins and the D-H Transplant Center performed their second ABO incompatible kidney transplant. "There are a large number of patients waiting for deceased donor kidneys on the national waiting list who have available live donors but have antibody incompatibility with them. Without these specialized approaches to modify the immune system, they will continue to wait and may not locate an organ," Simpkins says.
The ABO incompatible transplant program provides another, important option for patients at D-H to receive a life-saving transplant, he says. "This protocol allows us to offer the broadest range of potential avenues to transplantation that are currently available."